Navigating shifts in the music industry is tough enough on record-shop owners. It seems unfair they'd have to contend with so-called acts of God, too.
But that was the burden foisted upon Martha Hull and her husband, Bob Berberich. In late September, their basement record store in Frederick, Maryland, was overcome by floodwaters brought on by a massive storm.
"We've been in the building for about two years and we, personally, have not had any flooding issues," says Hull, who opened Vinyl Acres with Berberich in 2013. "We have heard that there have been some floods in the past — last time about four years ago, but nothing on this scale."
The storm on Tuesday, Sept. 29, dumped about five inches of rain on downtown Frederick, impacting numerous stores along the city's popular commercial strip. But Vinyl Acres got hit particularly hard. Most of the record shop's merchandise was either damaged or destroyed.
"The water on Patrick Street was so deep that our stairwell just filled up, and the force of that six feet of water just pushed the door right in," says Hull. "The water hit like a tidal wave, knocking over two 300-pound glass display cases in addition to a whole lot of lighter stuff."
The store owners can't put a dollar amount on their losses. They say it's tough to gauge because the value of used vinyl and CDs lands somewhere between their purchase price and whatever sale price they can get. But it was immediately apparent that the flood had dealt a mighty blow.
Then the shop owners' luck kicked in.
Hull and Berberich have deep roots in the Washington, D.C., music scene. Hull fronted local legends The Slickee Boys for the band's first two years, later playing with D.Ceats, Steady Jobs and The Dynettes. Berberich played with The Hangmen, Grin and The Rosslyn Mountain Boys, among others, and he still plays music today. The Slickee Boys, in particular, still have a community of committed fans.
After the flood, the Downtown Frederick Partnership started a GoFundMe page to solicit donations for Vinyl Acres. In just a day, the shop had raised nearly $6,000 for its recovery fund, with a big chunk from folks involved in the regional punk and rock scenes.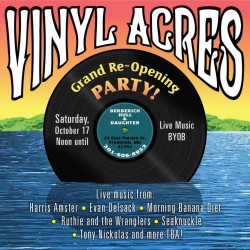 Music filmmaker Jeff Krulik, Old Indian frontman Cory Springirth, Danny Gatton biopic director Virginia Quesada, Kevin Longendyke from The Ar-Kaics and Dig! Records and Vintage, Punk the Capital co-creator James Schneider, Mobius Records owner Dempsey Hamilton, WHFS documentarian Jay Schlossberg and ex-Fugazi drummer Brendan Canty were among the donors.
Canty says helping Vinyl Acres was a no-brainer. He relishes traveling from D.C. to buy records in the shop's neighborhood.
"Frederick is a record-buying Mecca," Canty says.
A little more than two weeks after the campaign launched, Vinyl Acres reopened. It rounded up some local bands and hosted a reopening party Oct. 17.
Hull calls the GoFundMe campaign "something we never would have thought of ourselves, and it has been like a miracle." So far, the ongoing effort has raised more than $10,000 with donations from 176 people.
Without the outpouring of help, Vinyl Acres might have seen its last sale.
"This, and an astonishing amount of support, manpower, donations of supplies and salvage equipment — plus actual records — are already what has prevented us from closing for good," Hull says. "We are so grateful and overwhelmed we can't even pull together a proper expression at this point."
Vinyl Acres' GoFundMe campaign is still accepting donations. On Oct. 30, JoJo Restaurant & Tap House plans to host a benefit for both the record store and Whidden Willow, a Frederick boutique damaged in the flood.
Ally Schweitzer contributed to this report.