After a debut EP that sounded like soul music made in space, R&B duo April + VISTA return to earth with a gritty, grounded new track, "Beasts."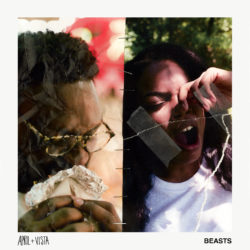 Lanterns, their March 2015 debut, was a journey through the cosmos with suspended, airy beats and dreamy vocals. The firmer, more direct "Beasts" is the cornerstone of the followup EP, Note to Self, which offers a much-needed landing, with April George's precise vocals venturing into more gravelly territory and Matt Thompson's production taking a more inquisitive turn.
George explains that "Beasts" came together as they were trying to figure out their place and their direction in music. (The full EP arrives July 28.)
"It was kind of like we were venturing through uncharted land," she says. "It felt like we were going through a very primal stage in our career, like we were beasts moving through some type of jungle."
"Perseverance is what it's about," Thompson adds.
The two Maryland residents currently work as graphic designers, but as they keep pushing to find new audiences, they're hoping the double-career life can merge into one just focused on music.
"I just want to live off of music for real," Thompson says, laughing.
Following Lanterns, George had the chance to collaborate and tour with fellow DMV artist Goldlink (a 2015 XXL magazine "Freshman Class" honoree) after meeting him through a mutual friend.
"There's a lot of value in collaboration," George says. "It really introduced me to a new way of thinking, music-wise, because [Goldlink's] music is dance-y, very upbeat. So it helped me with my writing, just my understanding of music. I'll be able to take the things I learned with him and his crew to what we did."
Musically, George says she and Thompson have the "same brain," but their approaches can differ.
"I'm really into raw, dark imagery and April's really into colors and things that are vibrant. So we initially clash sometimes but we always really find a dope middle ground," Thompson says.
When they do find it, it's contemplative and sincere.
"I always say that you go through things to help other people," George says. "I really do believe that the experiences we have in our lives, we experience them because we can help someone else deal with whatever they're dealing with. You can only help someone if you are super honest about where you are."
April + VISTA perform July 23 at 7DL Studios on 2008 8th St. NW.