Maryland R&B duo April + VISTA made its debut in early March with the lingering track "If Light Escapes." Today, the pair makes good on the single's promise with its brand-new Lanterns EP (listen below).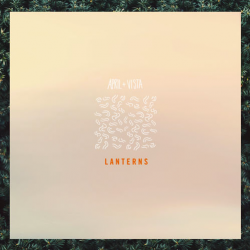 Lanterns opens with a serene instrumental — one of two on the six-track EP — that sets the release's contemplative mood. The project was a joint effort between members April George, 24, and Matt Thompson, 22, both graduates of Hampton University who found their creative boundaries being pushed while making the EP.
One of the instrumentals, "Overture," marked Thompson's first time writing anything of the sort. "I never thought I'd co-write a classical composition, at least not at this stage in my production," Thompson writes in an email. "Being a part of the production process for the 'Overture' was surreal."
George and Thompson's idea was to create something cinematic. "Originally, we wanted the EP to flow like a movie, so the overture and end theme are like the opening and closing of a movie soundtrack. They also tie everything together," George writes.
Despite Lanterns being their first project, April + VISTA don't present as amateurs. That could be because both were raised in musical environments. Thompson took guitar lessons, growing up with a father who played bass and introduced him to different styles at an early age. George is a classically trained violinist; her mother plays piano and her father also plays bass.
Together, the two artists mesh elements of themselves and their experiences for an exercise in presence.
The EP's songs feel unforced, with George's voice blending naturally into Thompson's production and the tracks' live instrumentation, none fighting for space. Their synergy comes as the result of nine months of working jointly, though not always in the same place — both geographically and creatively. George says she tends to understand music emotionally, and Thompson finds ideas through visuals.
"I think the coolest thing about our dynamic in this project is that the beats and lyrics were written separately," Thompson writes. "So when we came together to actually make the songs, we unwittingly created a new narrative from two completely different stories."