On U Street in 2016, it's easy to stumble across vestiges of the corridor's African-American history. But that history is often presented through a foggy lens.
Take the Lincoln Theatre, the legendary music venue at 1215 U St. NW. Owned by the District but booked by 9:30 Club operator I.M.P., it's no longer the epicenter of black music it once was. Then there's the high-end apartment building at 1301 U St. NW. Called the Ellington, the residence pays homage to a music giant born in Washington, but costs far more than many jazz musicians could afford.
Shellée Haynesworth doesn't want U Street's black cultural history to be washed away in the undertow of development. That's why in 2013 the multimedia producer — who's also a third generation Washingtonian — started "Black Broadway on U," a sweeping, grant- and donation-funded digital project that remembers the black artists and innovators who made U Street as vital as New York during the Harlem Renaissance.
Saturday, Haynesworth co-presents the show "Black Broadway on U: Echoes of an Era" during the Funk Parade, the daylong music festival expected to shut down U Street for part of an afternoon. In advance of the event, Bandwidth contributor Paulette Mensah talked with Haynesworth about her research, the state of black hangouts on U Street NW and whether D.C. schoolchildren are being taught enough about U Street's history. Here are snippets from their conversation.  —Ally Schweitzer 
This interview, conducted by Paulette Mensah, has been edited for length and clarity.
Bandwidth: What circumstances led to you starting the "Black Broadway on U" project?
Shellée Haynesworth: My grandparents both grew up in the U Street corridor. That's where black D.C. [was] because of redistricting, segregation and housing laws. We got pushed out of Georgetown. So one day I was driving [my grandmother] on U Street, and she was like, 'Oh my God," and started telling the story of what was here and what they did. That influenced me to get out and do something because [the neighborhood] was changing rapidly.
I feel like a lot of people in my age group — in their 20s and younger — don't necessarily understand the history of U Street.
Exactly. And I don't like to make blanket comments about African Americans, our people, but I just don't think we care enough, you know? And I think it's that institutional knowledge — that knowledge we just don't pass down. Because it's painful for some people. On this project journey, I've had older people tell me that it's too sad, no one wants to talk about it. Well, we need to talk about it, and we need to celebrate it. That's really my goal, and I'm trying to get more funding [to help tell a] deeper story… so I can create more content that supports and reflects why this community was significant to black America at large, not just D.C.
How do you do your research?
My goal is to tell the authentic story [from] people who lived through the history, so a lot of the information I've gotten from people I've interviewed. Historically, [black history] hasn't been a priority when you look at these American institutions. They don't document it unless it's to their benefit. So I discover places that aren't listed anywhere, people that live in the community by interviewing a lot of authentic voices. But of course I've done the traditional research by reading a lot of books and going down to [historical societies] and the Library of Congress.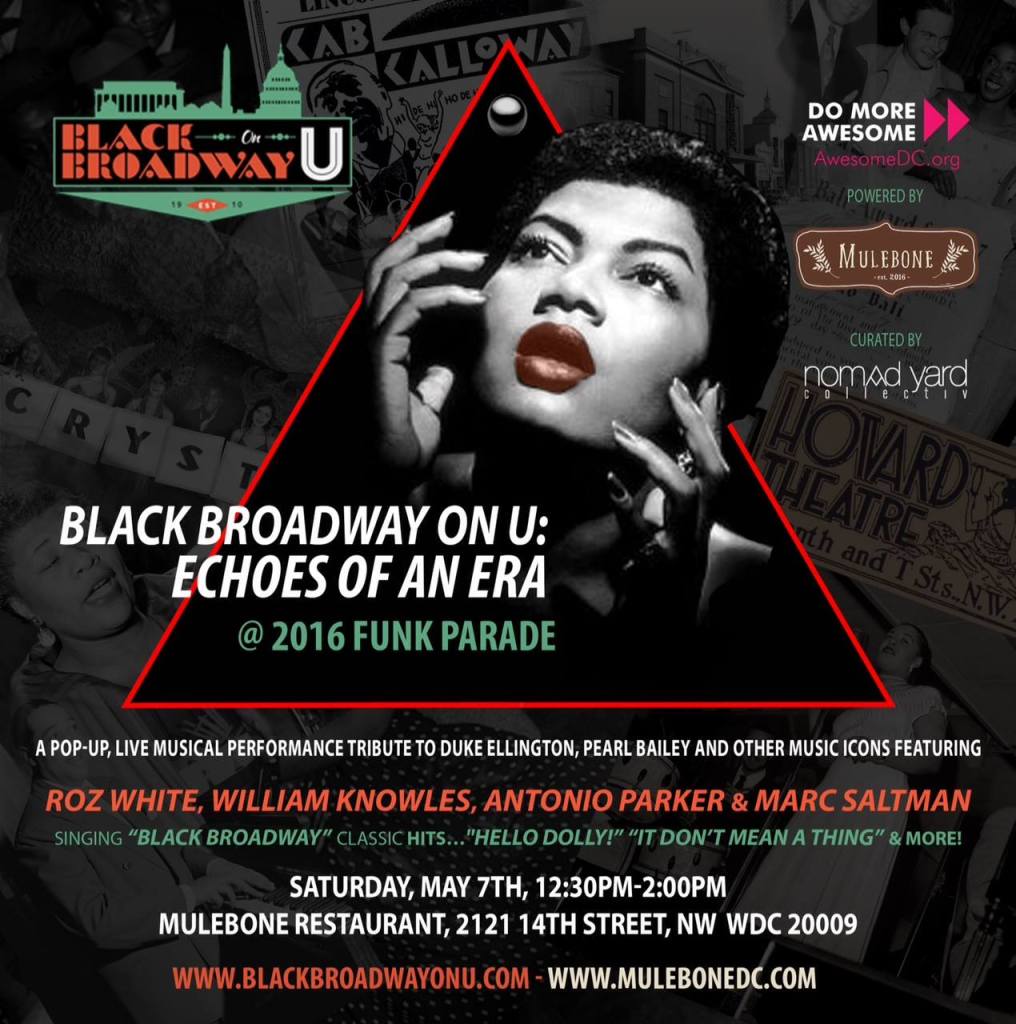 What are your thoughts on the recent closure of jazz club Bohemian Caverns and the financial troubles plaguing the historically black Howard Theatre?
We've got to get back to understanding that in order for our businesses to survive and thrive, we have to support [them]. And I think by getting a better sense of the culture and history behind some of these places, maybe people will be more inclined to support [them]. I think we're walking away from this cultural legacy instead of embracing it, you know?
How do you think we should continue to preserve black history on U Street?
We need to collaborate, the African-American community. I think what happens is there are so many things happening every day, there's this issue, there's crime, there's this — so somehow, we've got to realize that everything is important. The people who want to preserve and revive and keep the history alive, somehow we have to collaborate.
[I hope] to get more people to understand why we've got to get this history out of the boxes and get people to understand that this was really a significant community, and I think more significant than Harlem. I mean, no disrespect to Harlem, but we didn't own the Cotton Club and some of the major venues. They were owned by the external community.
"They're teaching our students here in D.C. about the Harlem Renaissance, but they don't teach them about the black renaissance in their own backyard." — Shellée Haynesworth
I'll just share this little story. I was doing some online research and came across this [image of] Ella Fitzgerald … at 18 years old, at Howard Theatre, performing with Chick Webb. So that just gives you a sense. This is 1935. The story is that Ella Fitzgerald actually won amateur night at 17 at Howard Theatre, and that's how she hooked up with Billy Eckstine and Chick Webb. But all you hear about is her starting in Harlem. Well, she actually performed here before that — and won amateur night. They were doing amateur night years before they were doing it at the Apollo Theater. And you had folks like Billy Eckstine. He won. And he went to Armstrong High School here in D.C.
They're teaching our students here in D.C. about the Harlem Renaissance, but they don't teach them about the black renaissance in their own backyard. Just recently I went to Anacostia High School with Blair Ruble, who wrote a book about U Street. You should've seen the kids. They were blown away. Just blown away — because they had no idea.
And there were black [people] thriving in Georgetown long before white people lived there.
Yes, and Anacostia. So my goal is to show our people that even in the midst of this gentrification — which in my opinion is like the second coming of what we experienced in black Washington in the early 20th century — here's what we did during that time, and we can do it again. That's my goal. It's to inspire, educate and elevate.
"Black Broadway on U: Echoes of an Area" takes place May 7 at Mulebone Restaurant. Explore the project on blackbroadwayonu.com. Top photo: Ave Marie Odell (center, DCPS educator) with family and friends at the Lincoln Colonnade Ballroom, formerly located underneath the Lincoln Theatre, circa 1940s. (Gina Strange Family via Black Broadway on U Archives)