Four years ago, avant-garde composer and multi-instrumentalist Janel Leppin was living in Seattle, where she wrote and recorded her first solo album, Mellow Diamond. Inspired by the scenery of the Pacific Northwest and fairy tales by Hans Christian Andersen, she wanted the record to sound "amniotic, like the sound you hear in the womb."
"I fell in love with [Andersen's] story The Little Mermaid and was fascinated by the idea of a female character sacrificing and enduring intense pain to get what she wanted," she says.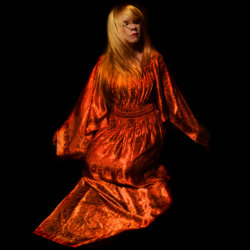 Leppin's interpretation turned out to be a personal prophecy. Mellow Diamond went through endless release delays and hand-wringing by record labels. In the meantime, she suffered nerve damage in her elbow, limiting her ability to play her signature instrument, the cello.
During her recovery, she wrote and recorded using the mellotron — an electro-mechanical keyboard — saying the songs came "out of pure desperation to have solo material." This brought about a second solo release, the Songs for Voice and Mellotron EP.
Leppin's biggest step thus far came last January. Exasperated from years of trying to put out her music, the now-D.C.-based musician announced the launch of her own record label, Wedderburn Records.
"There were some lengthy talks with labels that didn't exactly do me any favors," says the Glover Park resident. "People talk about glass ceilings and honestly I think I had one hanging over me, too."
That move has been followed by a gutsy decision: On March 25, Leppin will release Mellow Diamond and Songs for Voice and Mellotron at the same time. Both are under the project name Mellow Diamond.
"It is a huge relief for me," she says. "The records are done and since I have my own label I don't have to wait."
The two projects demonstrate Leppin's virtuosic understanding of timbre and space, but each has a distinct identity.
Mellow Diamond is lush and features more than a dozen instruments, all played by Leppin. The textures include cello, percussion, synthesizers, radio frequency noise, koto, pedal steel and her haunting vocals.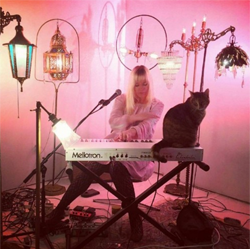 Songs for Voice and Mellotron, on the other hand, consists of only the two titular instruments. The tense restraint is a reminder of Leppin's injury at the time. Leppin and Wedderburn Records will co-release the EP with New York label Fast Speaking Music.
Despite overcoming multiple challenges, Leppin confesses she was still hesitant about the simultaneous release. She got a final push of encouragement from a familiar name in D.C. music.
"I worried about it for a while and got mixed opinions, and then I called Ian MacKaye," she says. "He thought releasing two records simultaneously was bold."
Mellow Diamond plays the Songbyrd Music House March 24, with Pree and Roz and the Rice Cakes.