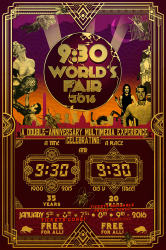 In January, D.C.'s 9:30 Club marks its dual anniversary, celebrating 35 years in existence and 20 years in its V Street NW location. When the venue announced the official World Fair anniversary celebration and exhibition, tickets disappeared within hours, according to the club.
But if you missed out, cheer up: The 9:30 Club is extending the party two more days.
Free tickets for the World Fair on Jan. 8 and 9 will be posted Dec. 18, the venue announced today. "The event will be an all-encompassing, all-ages experience highlighting the historic past and present of the 9:30 Club and chronicling 35 years of memories and memorabilia from musicians, staff and fans," according to a press release.
Along with the big party, 9:30 Club is also publishing a 264-page hardcover book about the venue's history from 1980 to 2015. The book is available now for preorder.
The second round of World Fair tickets go up for grabs 10 a.m. Friday on Ticketfly.
Top photo of Ex Hex at 9:30 Club by Alex Schelldorf for WAMU.