In 2010, Fort Totten rapper Ardamus survived a violent robbery. "It was situation where I could have ended up dead," the MC told Bandwidth in January.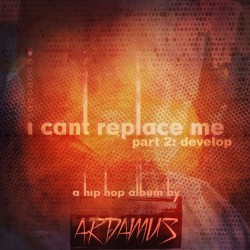 But the frightening experience fueled him creatively, prompting him to release a string of candid EPs centered on material and personal loss.
The latest in the series, called I Can't Replace Me, Pt. 2: Develop, finds the forthright MC going deep and broad at the same time, tackling a range of subjects including racism, politics and — on Track No. 2 — the power wielded by charismatic liars.
The song is called "Jordan Chase," named after a villain on Showtime TV series Dexter (listen below). On the show, Chase maintains a charming exterior while privately ordering his followers to commit hideous acts of violence. Ardamus sees the character as an archetype for many off-screen strongmen.
"I thought Jordan Chase was one of those get-away-with-it types of people," says the hip-hop artist, whose real name is Artemis Thompson. "He had power and he controlled masses of people. I thought that was a powerful statement."
On "Jordan Chase," Ardamus and L.A. rapper Chee Malabar's wry observations are punctuated by the frenetic scratching of D.C. turntablist DJ Orbit 122. Meanwhile, Virginia Beach producer Vintage buttresses the dark lyrics with a sauntering funk beat that wouldn't sound out of place on a gritty police procedural.
The third chapter in Ardamus' "Replace" series, which began in 2014 with Before I Replace You, ratchets up the intensity and clarity of his message. Though the artist says he recorded all of the projects at once.
"I am one of those music nerds who wants albums, not mixtapes with a ton of tracks on it," Ardamus says. Originally, the series was going to be a single jumbo release with 20 or more tracks. He thanks his label, Delegation Music, for advising him to take it down a notch.
Though Ardamus still keeps his nose to the grindstone. When he's not working on the "Replace" series, he occupies himself with a long list of local projects, including experimental rap act DropLockers, funk band The Lucky So & Sos and D.C. hip-hop supergroup FAR EXP.
Next year, Ardamus plans to release the fourth and final installment in his series. He's calling it After I Replace You.
Ardamus performs with The Lucky So & Sos Nov. 12 at Flash and solo Dec. 12 at Science Club.
Warning: Explicit lyrics.