D.C. rapper Ardamus tends to write from his life experiences, but don't call his music "conscious" hip-hop.
"In all honesty, I am probably more like Tha Alkaholiks or Devin the Dude" — MCs who fall closer to the party-rap end of the spectrum — "than I am Common or Mos Def," writes the Fort Totten resident in an email.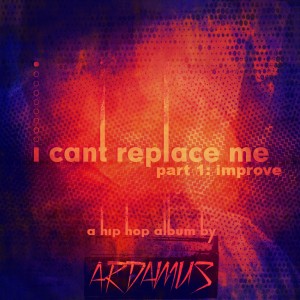 "It breaks down to me not being silent and trying to make sense of what confuses me. Everything from assimilation to social groups to the dangers of the advancement of technology," Ardamus writes. "At the same time, I drink, like to party, and listen to raunchy comedians. So, yeah, my style is the dark side of conscious rap at this point."
Dark side or not, Ardamus calls it like he sees it on his recent EP, I Can't Replace Me Part 1: Improve. His unflappable honesty stands out on the release's second track, "If Only I Gave Ah."
Over a robotic march laid down by Diamond District's Oddisee, Ardamus speaks about the grim realities facing kids who "cop gangsta rap out of vending machines," declaring failure "a drug that's spine-injected." Fellow Washingtonian Kokayi frames the uneasy mood with a frank chorus, and Chicago's Open Mike Eagle brings historical perspective with a thoughtful closing verse.
Asked about the song's intent, Ardamus writes, "I feel like these kids get into these situations where they want to be the winner in every aspect of what they have been taught… I realized chasing all that when you're young like that gives a warped perception of what else is out there."
The artist says he has a personal tie to the issues he talks about. "I grew up in a middle class neighborhood where it was mixed races; yet still, we had dudes trying to sling and rob in the suburbs when they didn't need to," he writes. "On another end of it, I'm like, 'It's none of my business, so should I care?' And yes. I do care."
I Can't Replace Me is the most recent release in prolific streak from Ardamus: Since November, he's also dropped a single and an EP and plotted a string of live performances as a member of funk outfit The Lucky So and So's and D.C. hip-hop supergroup FAR EXP. Next year, he plans to release a sequel to the EP called Part 2: Develop and a new project called DropLockers with local producer Edword Asis. He credits the surge to surviving a dicey encounter.
"I actually got robbed nearby my old place, and it freaked me out because it was situation where I could have ended up dead," Ardamus writes. "After some months of adjusting to the loss of material things and counting my blessings of how was still living, I came up with that title. It's an ode to going from one level to the next level, to always elevate."
Warning: Explicit lyrics.
Ardamus performs with FAR EXP Jan. 10 at Rock & Roll Hotel and as himself Jan. 26 at Velvet Lounge.