Nearly two decades after the band released its last album, there's still a mythology around Jawbox. As one of the few D.C. rock bands to get a major-label deal in the 1990s, Jawbox showed up on MTV. They played the HFStival, in 1996, at D.C.'s RFK Stadium. They toured widely, racking up critical acclaim.
But J. Robbins, Jawbox's ex-bandleader and guitarist, seems unimpressed with mythology.
"Making For Your Own Special Sweetheart —" the band's 1994 major-label debut — "was like going to school, and sometimes it was very hard," Robbins says. He'd realized the limitations of his guitar-playing. The band didn't know how to navigate Atlantic Records' bureaucracy. The record sold meekly, too, by major-label standards. Two years later, they took the lessons they'd learned and channelled them into Jawbox, a triumphant album by any measure. But it mattered little — the LP didn't sail off the shelves. Come '97, Jawbox hung it up.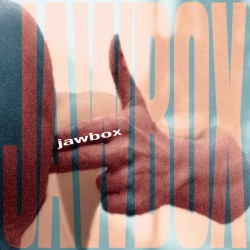 But Robbins never soured on those two albums, the group's last of four. In 2009, DeSoto Records — operated by Jawbox bassist Kim Coletta — teamed up with Dischord Records to deliver a remastered version of For Your Own Special Sweetheart. And last week, the labels unleashed a freshened-up take on Jawbox's swan song. Robbins says there isn't a vast chasm between the Jawbox of 1996 and this new version.
"There's so much about [Jawbox] that is like a time capsule," Robbins says. "Even though there might be things I'd want to change, I think it's silly to change it. It's like, 'No. This is really a record.' As in, a record of a moment of our band firing on all cylinders creatively."
It wasn't always like that, not even with For Your Own Special Sweetheart, says Robbins, now a recording engineer in Baltimore. The band had imperfections, like uneven tempo changes that prompted producer Ted Niceley (who had worked with Fugazi on In On The Kill Taker and Repeater) to bring a metronome to their sessions.
"Luckily we had, like, seven weeks to make the record," Robbins says.
When it came time for Jawbox to record the album that would be its last, the band members had developed an exacting attention to detail.
"Even when we were writing songs, there would be a tempo in mind and we would get in these heated discussions of whether something should be two BPM faster," Robbins says. Jawbox had become more critical of its own work than producer John Agnello. (The musician recalls band members shaking their heads disapprovingly after hearing takes in the studio, tutting, "Oh, John. John, John, John. Didn't you hear where Zach [Barocas] rushed the snare in the fourth bar of the second verse? That's not cool.")
Yet Robbins has fond memories of those Jawbox recording sessions. He speaks warmly of Agnello's inspiring presence and discovered he and his bandmates could record quicker with their newfound maturity and efficiency. As such, the band was able to expand creatively, adding auxiliary percussion, organ and even a saxophone, courtesy of member Bill Barbot. Never mind that Atlantic kept pushing back the album's timeline.
Robbins calls Jawbox's placement on the major label and its TAG subsidiary "a cultural accident of timing."
Now, the musician has nice things to say about the way music is released in 2015. He appreciates the Bandcamp model — which he used to release an EP last year — because it obliterates some of the excesses of superstardom that still prevail in music culture. For the Jawbox reissue, he wanted no bloat, no glitter.
The changes on Jawbox 2.0 are subtle, at most. It has updated artwork — a slight variation on the unsettling original, a photo of two fingers pointed toward a bowed head. (Jason Farrell — of Swiz and Bluetip — had to redo the cover because the band no longer has the original files.) Other than that, the only difference between 1996 Jawbox and the 15 songs reissued last week — Tori Amos cover included (stream below) — is a remastering courtesy of frequent Robbins collaborator Dan Coutant.
It's surprising to hear, coming from a studio jockey, but Robbins says he couldn't bear to do the job himself.
"Mastering gives me hives," he says.
Jawbox's self-titled album is available on vinyl, CD and digital formats through Dischord Records.