No one could call the D.C. region's music scene a monoculture — it's been home to legends across dozens of genres and birthed boundary-blurrers like vocalist/guitarist Eva Cassidy and "Redneck Jazz" composer Danny Gatton. On that same eclectic list could be Joel Harrison, a D.C.-born guitarist who has cross-pollinated musical traditions for decades.
Now based in New York, Harrison has a career that includes playing with a big band, writing chamber jazz, wildly reimagining old country songs and composing for string quartets.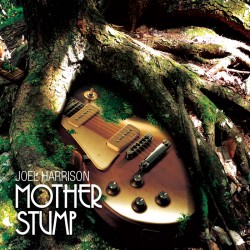 Where does that adventurous spirit come from? "It's how I hear things, how I was put together as a person and just how I've wanted to do things," says Harrison, who performs two shows in the D.C. area this weekend.
On his latest album, Mother Stump — out now on Silver Spring label Cuneiform Records — Harrison steps out even more than usual. "It's probably my most freewheeling record to date, in terms of playing more rock and blues," he says.
In the past, Harrison has relied more heavily on his compositional skills, and he typically featured other players as primary soloists. But this most recent LP felt different. "I have something I can do on guitar," Harrison says. "I've never made a record where I featured myself — I just wanted to have fun."
The album rips to life with opener "John The Revelator," offering plenty of room for Harrison to flex his warped-but-refined chops.
"The [guitar] solo reaches a fever pitch, and I start scratching the strings with a metal spring," says Harrison, describing an abrasive, euphoric climax that might impress the late Lou Reed.
Musicians with such diverse interests and talents don't have many peers, but Harrison — who earned a 2010 Guggenheim fellowship for his work — says his longtime friend Nels Cline explores similarly vast territory on the guitar. The two met in the 1970s, made a record together in the '90s, and last year Cline performed at Harrison's annual Alternative Guitar Summit, showcasing lesser-known instrumentalists. (Cline now supports his appetite for sonic adventure with a role in rock band Wilco — a steady gig Harrison admits "would be nice.")
Scroll down to hear a playlist of Joel Harrison's influences, peers, mentors and collaborators.
Harrison's two divergent local shows this weekend suit his heterogenous palate. Saturday at JV's in Falls Church, Virginia, he plays a set with Cuneiform labelmate Anthony Pirog, the local composer Harrison describes as "a kindred spirit… and an important up-and-coming figure." He plans to tear through rockabilly, blues and roots music, backed by members of Danny Gatton's old rhythm section.
Focusing more on jazz and his recent Mother Stump arrangements, Harrison performs two sets at U Street club Bohemian Caverns Sunday. He'll be accompanied by a fellow D.C. native, drummer Allison Miller (who's worked with Ani DiFranco, Natalie Merchant and Brandi Carlile), and bassist Michael Bates (who cites both Bad Brains and Joni Mitchell as influences).
Working with Cuneiform Records on Mother Stump was no accident. While watching Danny Gatton play, hanging out at Fort Reno, studying jazz with Bill Harris of The Clovers and even jamming with Root Boy Slim ("a true character," Harrison says), much of the guitarist's musical identity formed during his years around D.C. It only made sense to work with a D.C.-area label to highlight those roots.
Much like Harrison's prior work, Mother Stump pulls from disparate sources — many local, this time around — to grasp at something greater.
"The type of deep connections I feel and try to make through music are what making life worth living for me," says Harrison. "So I just keep trying to find that space."
Joel Harrison performs with Anthony Pirog, John Previti and Jack O'Dell at 9 p.m. March 28 at JV's in Falls Church and 7 p.m. and 8:30 p.m. March 29 at Bohemian Caverns in D.C.
YouTube playlist: Joel Harrison's influences, peers, mentors and collaborators
Also read: A Critic's Guide to Cuneiform Records, parts 1 and 2