Living in D.C. isn't always easy, with its sky-high cost of living and seemingly pervasive culture of overachievement. Fortunately, Wanted Man is here to help us power through.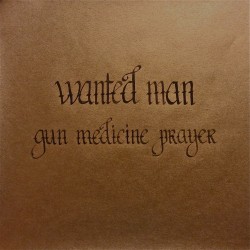 The D.C. garage-rock trio deals directly with that often suffocating pressure on "Gun To My Head" (listen below), the opening track on its new EP Gun, Medicine, Prayer.
"I remember being in my early 20s," says singer and guitarist Kenny Pirog, "and I know I can't be the only one who felt like I was under tremendous pressure. Pressure to get a career going, to find a new home. Kind of like the system was holding a gun to my head."
Now 28, Pirog says he wrote the song "because I wanted to smack that gun out of the system's hand and not succumb to the pressure, and find my own way to play with the system."
While the track is more about taking control of one's life than D.C. life in particular, the nation's capital still sounds etched into the song. Pirog, an Adams Morgan resident, says he took some of his cues from punk bands he saw at an iconic local rock club.
"I was hanging around Black Cat all the time, seeing a lot bands — a lot of which were punk-rock bands — and just getting that ingrained into my musical vocabulary," Pirog says. "Musically, 'Gun To My Head' is a very D.C. song."
Drawing from the energy of D.C.'s punk-rock scene as well as his own background in blues and jazz — Pirog's older brother Anthony is an established experimental jazz composer in town — the guitarist says that "this attitude and energy that they played all these songs with contributes as much, if not more, to the song's identity than just the chords, the melody and the lyrics."
That attitude is the reason "Gun To My Head" is the leading track on the EP. "It just hits you right away," Pirog says. "There's no intro or anything, it's just immediately full-throttle."
The combination of lyrics and punk lineage may make the song instantly relatable for anyone who has spent much time in the District, which is exactly what Pirog wants.
"When I write a song," Pirog says, "I want it to be relatable for an audience, so that people can personally identify with each one."