Bbbbbbrrrruuuuummmmmmm! About halfway through "The New Electric," one of the centerpiece songs on Palo Colorado Dream, Anthony Pirog's debut album as a bandleader, there's a sudden shift from a simple, contemplative melody line to a massive, two-fists-punching-the-air resolution. It's hardly the most comprehensive expression of Pirog's ability as a composer and a player, but it's definitely an obvious entry point.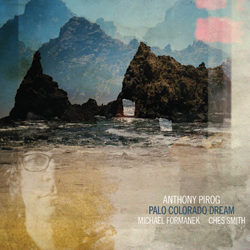 The Berklee-trained, D.C.-based guitarist so far has made his name as a jazz guy and sonic experimenter, but he's never shied away from music that strives to directly satisfy the listener. That bbbbbrrrruuuuummmmmmm moment? The loud, almost sexy solo that eventually follows? Those sounds don't need much translation. The wallop is elemental. Pirog wants his songs to go places.
"I just try to write in an intuitive way, and just try to be open and listen for things that I want to hear," says Pirog, who is one-half of the duo Janel & Anthony with cellist Janel Leppin and has been featured regularly in D.C.'s annual Sonic Circuits festival. Palo Colorado Dream is on Cuneiform Records, the Silver Spring, Maryland, label known for promoting experimental music of all stripes.
It helps that his collaborators on the album, New York drummer Ches Smith and Baltimore bassist Michael Formanek, are equally flexible. They play more prominent roles elsewhere on the album, which has surges of free improvisation and post-rock, as well as stretches directly inspired by thinky ECM-label jazz. (One song is even called "Motian," after the late drummer Paul Motian.) But their sense of touch and timing, nonetheless, is essential to the explosiveness of "The New Electric."
"A good melody, and a deliberateness, and restraint—it allows room for things to really speak, and that's what I've been attracted to," Pirog says.
Pirog's own work on the song does have some intellectual and experimental components underneath, of course. He plays baritone guitar, but through an effects pedal that makes it sound like a regular guitar. The trio performed the core track live in the studio, but a lot of the final product has been overdubbed. (He rehearsed the album with Smith and Formanek individually, but they didn't play as a trio together until the album was recorded in March 2013.) Pirog wasn't concerned about whether that was an un-jazz approach to things.
"It was a question that came up, but I quickly decided that that's the kind of route I wanted to take. … I like overdubs—Janel and I use overdubs in the studio a lot—and I've always thought of the record as being completely different from the live performance," he says.
For as direct as it is, "The New Electric" wasn't born from a particular story or motive, Pirog says.
"I mean, I didn't sit down thinking, 'I'm gonna write this post-rock song on baritone guitar, for my jazz record' … the song just came to me. It's hard to describe where it comes from. … It just kind of presented itself," he says. "I know that sounds weird, but … I just kind of wait for these little moments where there's a melody or a chord progression, and then I can build on it from there."