Bandwidth has done extensive coverage of the house-show scene in D.C., and today this story—about the broadening and unique appeal of seeing live music in people's homes—broadcasts on WAMU's Metro Connection. It also airs Saturday at 7 a.m.
I'm at the home of Sully and Patsy Stephens in a leafy suburban neighborhood in Columbia, Maryland. Joining me are 25 people, mostly in their 50s and 60s, listening intently to a performance from veteran bluegrass musicians Eddie and Martha Adcock and Tom Gray.
"The venue is our living room, our TV room," says Sully Stephens. "We move all of the furniture out and put all the chairs in."
A few years ago the Sully and Patsy went from being concertgoers to concert producers when they saw some of their favorite musicians struggling to find small and mid-size venues in the region.
"We found ourselves in an area that seemed to work for the traveling musicians to stop in, play a few gigs, and move on," says Sully. "We're not a big venue but we afford them to opportunity to pay their gas money and food for a day and a half I guess."
This show isn't entirely altruistic. There's a personal payoff for Sully and Patsy as well.
"We just love the music," says Patsy Stephens. "To have performers in our living room—it's an intimate setting, and you meet them, you talk to them and they're up close and personal. I think it's just cozy."
"You want to see what's going on in D.C. music, you should be going to house shows." —Alex Tebeleff
House concerts aren't a new phenomenon in the metro area, but the home show movement is experiencing a bit of a renaissance of late. In D.C. alone there are an estimated 35 active venues. With this surge, several grassroots organizations have popped up to help promote shows and assist venues.
Nick DePrey cofounded the website Homestage DC. "The only goal [of Homestage DC] is to nurture and sustain the house show scene," says DePrey. "And we do that in a bunch of ways. One is a calendar—just letting people know. Because one of the things we found is that if you're not kind of in the know, and I wasn't for a long time, you don't know when these things are. And for a long time we were also just helping people host in whatever capacity that we could. Sort of guerrilla house show hosting. You need a PA, or you don't know any local bands, or you don't know how to promote or you don't know how to rock-proof your house and you've never done this before. We can help with all of those things."
DePrey and I are in Petworth at a venue called The Paperhaus, a two-story rowhouse on a quiet side street. We're there for a show featuring two indie-rock bands—locals The Sea Life and a touring band from Atlanta called Dog Bite. Although both groups regularly play in traditional rock clubs, DePrey says house venues are still an attractive option. The modest pay they receive from donations tonight is helpful, but the Paperhaus offers them something intangible.
"It offers an opportunity to take risks creatively that I'm not sure would be tolerated or as accepted in traditional venues," says DePrey.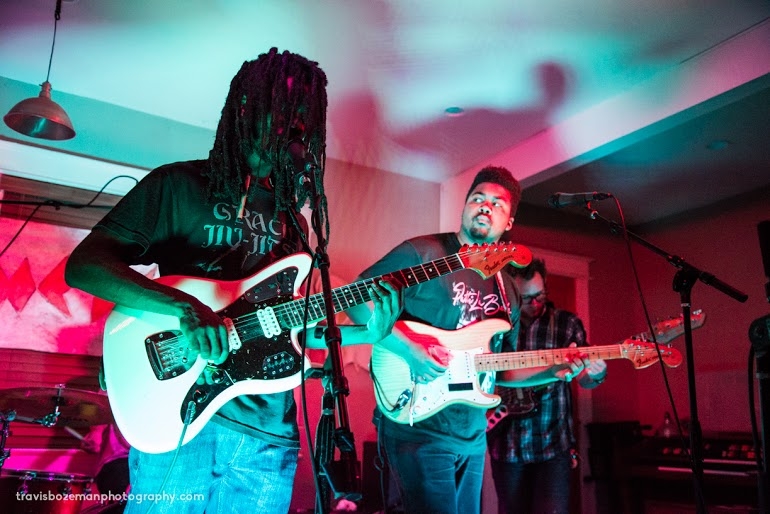 Beyond the creative freedom, there is also an aesthetic difference to playing in a house.
"It's more of a wall-of-noise concept than you might be used to," explains DePrey, who has performed with bands in D.C.-area houses and at traditional venues. "Typically in a house here like The Paperhaus, the drums dominate. So you have to either tell the drummer to be more quiet or you have to match his noise with whatever you're doing. But yeah, it comes with its own unique challenges as a musician—and it offers its own listening experience."
Alex Tebeleff books and produces shows at The Paperhaus. "You want to see what's going on in D.C. music, you should be going to house shows," he says.
And what was once a small, underground and sometimes invitation-only scene has blossomed into an open and diverse collection of venues.
"It's more accessible now," he says. "I think that's something that's really important. Literally any kind of music is welcome. Any kind of person is welcome."
The crowd tonight at The Paperhaus consists of about 25 people. They're mostly 20-somethings that wouldn't look out of place at a big rock club like the Black Cat or 9:30 Club. On the surface, these people have very little in common with the crowd at Sully's place in Columbia. But Tebeleff says there's a subtle but important similarity.
"I think people come here more for the music than for partying, which is something that really is what creates the atmosphere that I appreciate and why I keep doing it."
Back in Columbia, Maryland, I tell Sully Stephens about his young counterparts in Petworth and ask if that surprises him.
"I think there are a lot people who would just like to come and listen and want an opportunity to be in an informal setting," says Sully. "I don't know much about indie rock at all—us old fogies you know—but it doesn't surprise me that there are other people doing the same thing. I just think we want to support the live music."
So if you want to see the next big thing in D.C. music, you may not have to travel very far. In fact, there could be a venue right next door.
To find out where you can see house shows in the D.C. area, visit Homestage DC, DC Showspace, DC Bluegrass Union, the Washington Folk Music Association, the Folklore Society of Greater Washington and Showlist DC. For more on local musicians, visit Listen Local First.
Second photo: Dogbite at Paperhaus by Travis Bozeman