It's 11:30 p.m. on a Saturday, and Virginia garage-rock band Passing Phases has just finished its last song at Ft. Loko. No angry neighbors called or banged on the door to complain. For booker Sharon Din, that's enough to call the night a success.
Din has just wrapped up a finale to a weeklong run of shows that brought nine bands to Ft. Loko, the Edgewood row house where she lives and books small concerts. The former American University student lives in the three-bedroom residence with two roommates, but she runs the shows herself. For Saturday's event, she sets up the basement, ushers in the crowd gathered in the backyard, runs sound and points attendees to a stash of earplugs.
"I just hope there's no moshing around that pipe," Din says, patting a vertical water pipe fixed in the center of the basement.
At age 21, Din is one of the youngest female show promoters in D.C. Recently, she's also been one of the DIY community's most ambitious, hosting five events in May and three in the past week alone. That kind of volume is bold for a house venue. Nearby DIY basement The Dougout booked three shows this month; indie-rock band Paperhaus, which runs a Petworth house venue by the same name, lists only two May shows on its Facebook page.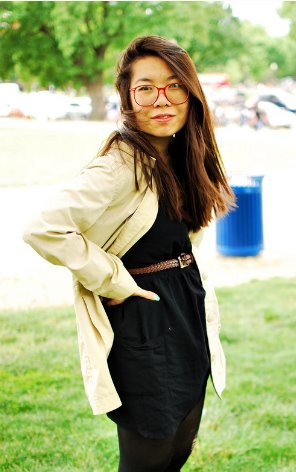 Ft. Loko is the latest addition to a group of DIY venues located within a few blocks of each other in Eckington and Edgewood, and collaboration among the neighboring spaces is key to its functionality. Lights borrowed from art loft Hole In The Sky are clipped to a ceiling beam. The mini-PA system comes courtesy of The Dougout.
Din cites her own basement show-going as a major reason for renting the place. "When I looked at the house, [hosting shows] was one of the foremost thoughts in my mind," says Din. "I know the community, and I know that planning and coordinating is a really integral part of it. And that's a role I'm willing to play."
April was a tough month for nontraditional venues in D.C. After two years, Columbia Heights performance and gallery space The Dunes was barred from renewing its lease. A management transition drove Tenleytown restaurant Casa Fiesta out of the punk-show business altogether.
When she read that Casa Fiesta was stamping out shows, Din immediately contacted Tenley Empire—the collective that booked gigs at the restaurant—to try and salvage the remaining dates. She agreed to move three concerts to Ft. Loko, doubling the number of shows she had lined up for the month.
"Reaching out was just an instinctual reaction since I had the capability and like the music that they usually bring in," says Din. "They're really nice guys and you can tell how much they really love bringing people together around music, so of course I want to help them any way I can."
Ft. Loko possesses the same scrappy domestic charm that typifies many basement venues: Christmas lights hang from the ceiling, an Ikea carpet doubles as a drum rug and the flush of a toilet upstairs reverberates downstairs. But Din's space was a welcome relief to Tenley Empire.
"Without her offering up her home, [the shows] would've probably had to be canceled," says Tenley booker Ryan Zellman. Alex Edelmann, who orchestrated Saturday's garage-pop lineup, says he appreciates Din's open mind. "It's super nice that she's down to host weird hardcore shows," he says.
Din is aware of how strained relations can become between house venues and their neighbors, so she strategizes to avoid flare-ups that could endanger the space's future.
"Longevity is the real threat to DIY venues, so you gotta be smart," Din says. Before her string of shows last week, Din knocked on doors down the block, delivering cookies and handing out her cellphone number. She even offered one concerned neighbor her basement as a music practice space for her neighbor's son.
"I wanted to communicate that it's not about partying or money, and it's bringing the community art and music," says Din. "Hopefully they'll respect that more than other vices."
But like many house venues, Ft. Loko's situation with neighbors is tenuous. Although there's been no police intervention, one neighbor claimed to have seen a show attendee defecate in his yard. The chance of earning a lousy reputation upsets Din.
"You don't want to antagonize the neighbors," said Din. "You've got to let them know it's not a bunch of [terrible] people who've come to ruin your night."
As Saturday's show winds down, the bands thank Din and hawk tapes and T-shirts. Show-goers linger in the backyard, keeping their voices respectfully low. Din says that a lot of kids who come to Ft. Loko know the drill: Stay reasonably quiet or risk the space.
Din says she's happy that this week's string of shows is over—and she may go to another house party once everyone has left.
But she won't get too much downtime. Ft. Loko has another show in less than two weeks.
Photos top to bottom: The Sea Life at Ft. Loko by Michael Andrade; Sharon Din courtesy of Sharon Din