Rappers might be the face of D.C.'s growing hip-hop scene, but the producers are its pulse. In this multipart series (read Part One), Bandwidth talks to local hip-hop producers making tracks you should hear.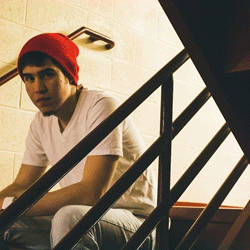 Producer: i.V.
Stats: Age 22, Gaithersburg, Md.
Notable collaborators: Alex Young, Royal, Lindsay Lowend
Producer i.V. isn't technically a D.C. guy: Born in Arizona, the 22-year-old spent most of his life in Rockville and Gaithersburg, Maryland—and often indoors. i.V. suffered from asthma that kept him in the house. "I could only stay inside because of the pollen, and because I couldn't really do a lot of activities, I never played sports," he says. But he credits his ailment with getting him into hip-hop. "I was always in my basement working on loops and trying to make things sound good when I was 11 or 12," he says.
For someone who spent a lot of time close to home, i.V.'s production can sound surprisingly otherworldly: He prizes ambience and futurism, crafting his beats by looping and altering everyday sounds and voices to create soundscapes. His sound has attracted a fairly large following on Soundcloud, particularly in the U.K. In this hemisphere, i.V. co-owns Bethesda's Indigo Studios and frequently collaborates with fellow DMV producers Alex Young, Royal and Lindsay Lowend.
In the long term, the producer has his eye on Top 40. "There's something about pop music that I just gravitate towards," he says. "It's just the music that gets me going… I would love to produce [pop] records." He's currently working on some of his own pop productions. Farther down the line, he hopes to break into scoring films.
As far as i.V. is concerned, the asthma that kept him inside was a blessing in disguise. "I've always been spiritually in tune with things, and I believe that lives come predestined and we are programmed by a higher power," he says. Making music "feels kind of like a calling," he says. "There's nothing else that I could do." —Briana Younger
Producer: The Arckitech
Stats: Age 20, Woodridge
Notable collaborators: Ras Nebyu
When D.C. rapper Ras Nebyu plays an early slot at this year's Trillectro festival, the crowd on RFK's festival grounds will be nodding their heads to the mellow instrumentals of his most vital in-house producer, The Arckitech. The 20-year-old D.C. native played a crucial role in Nebyu's breakout mixtape, Babylon's Most Wanted, contributing five beats of his own and recording and mixing most of the project in his home studio.
"Right now my focus is on projects," Arckitech says. "I'm really big on albums, helping people put together their projects, and just establishing my sound. Doing more than just making beats and really being involved in the process."
Arckitech began to explore hip-hop in his freshman year of high school, when he and Nebyu would swap and critique classic hip-hop albums in the halls of D.C.'s Benjamin Banneker High School. It was something of an informal hip-hop book club, in which the two teenagers delved into works almost as old as themselves, like Camp Lo's Uptown Saturday Night and Raekwon's Only Built 4 Cuban Linx. Those discoveries and conversations shaped both teens' artistic sensibilities, articulated on Nebyu cuts like "Lion Talk."
Now, Arckitech is helping to put the finishing touches on Nebyu's forthcoming album, Ras Griffin III, as well as a project with his older sister, Kamila Gem. He expects both to drop late this summer. "I don't really have a whole lot coming up as far as major placements," he says of his immediate future. "I'm just trying to have everything really organic. I'll have to wait and see if anything else pops up." (Harold Stallworth)
Photo by Flickr user Brandon Baker used under a Creative Commons license.