The past two and a half years have provided significant disruptions for Virginia DJ/producer Martyn — but you wouldn't know it from listening to Evidence From A Good Source, his new collaboration with Germany-based friend Steffi.
The cool-but-not-too-cool house and techno tracks — attributed to by Doms & Deykers, her and his surnames — sound unencumbered by life. But life has changed for the Sterling resident: He's been maintaining his creative energy and his international profile with a new addition at home. The Dutch-born musician and his wife have a toddler daughter, and he's had to learn how to compartmentalize things.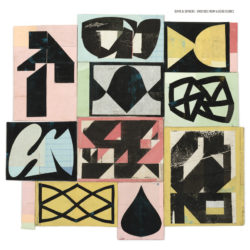 "You can't do any eight- or nine-hour studio sessions and just sort of completely lose yourself into compressing drums or whatever," Martyn says, chuckling. "Every two hours there's something new, then you have to go there, or then she wakes up from a nap — there's all these little things that you have to think about all of a sudden."
Perhaps it was natural, then, for Martyn to find a different mode of making music for the time being. Known for his club sets and his creative, sonically adventurous solo albums — including 2014's The Air Between Words on the Ninja Tune label — the 42-year-old says he was "never really interested in working with other people" until recently. The project with Doms stemmed from his DJ gigs in Europe. (He's currently doing a monthly residency at Panorama Bar in Berlin.)
"When we sit together in the studio, ideas happen really fast," he says. "We just lay jams down, and usually we spend a couple of hours on one, then record everything, and move to the next idea. And usually what happens when we get back home, and we're in our own studios working, we take these jams and build them into complete songs."
Doms, who is also Dutch-born, traveled to the Virginia 'burbs in the spring to help finish the album, which was released this week on 3024, a label Martyn runs with artist Erosie. Martyn also found time over the past year for another collaboration: Fierce For The Night, by a Berlin singer called, coincidentally, Virginia. Martyn, Doms and the Dutch producer Dexter handled all the production.
Martyn moved to Ashburn, Virginia, in 2008 for love and was married the same year. In 2012, he became a U.S. citizen. The family has since found another apartment, in Sterling. He's had some time to put Loudoun County in perspective.
"I must say that — especially with traveling to other parts of the U.S., I noticed that Ashburn and Sterling is not the norm," he says. "I think we're all quite privileged to live in this area. Although sometimes it can be a bit of a struggle, this is a really sort of wealthy area of the States. That's something I only discovered when I started traveling to other places and see how other cities are laid out, also smaller towns and things like that … this is not what the entire U.S. looks like, you know?"
As his adjustment to suburban-dadhood continues, he says it's "important to stay inspired." He has time to listen to music on international flights, but he's got a tactic at home, too.
"Once you actually find your groove again, you can actually make it part of your life again. Like, one thing we do is play a record almost every day — a new album every day so that in the house there's always music," he says. His daughter "really enjoys the music as well, even though sometimes it's a bit weird for her, maybe. That way I can sort of engulf myself in music and give my child a little bit of education in a way."
Martyn speaks highly of D.C.'s growing dance-music scene, particularly the Future Times and 1432R labels, and the roving-party series known as ROAM. He recently DJed at one in September.
"The crowd was just so healthy. It was so nice to see people really into the music and not really about posing or just taking pictures of themselves, just generally enjoying the music and generally enjoying the atmosphere and the other people," he says. "It was just really cool to see that. It almost felt like a European party, you know? That's something that I hadn't experienced in D.C. before. … It was less sort of institutionalized clubbing, and more sort of, freedom. That's obviously a very good time for people to play their music."
Despite the recent stretch of working so much with other artists, Martyn says he's returning to his roots in the coming weeks, with work on a new album that is likely to sound more "abstract," given the club-oriented nature of the Doms & Deykers album and the project with Virginia.
"I've just been aching," Martyn says, "to start working on solo material again."