Daniel Euphrat had one driving notion behind the new album for his solo project, Timmy Sells His Soul: "Start off normal and get weird."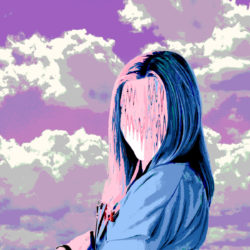 Hospital originally was going to be a straight-up concept album about, well, dying, but once all the songs were put together, the lyrics didn't really work with the idea. What did work was opening the album with tunes that were pop-based — almost electroclash — and pivoting to experimental, sometimes borderline-spooky songs about halfway through. The album moves from lyrics and concepts based in the real-world — addictive behavior, for example — to more abstract vibes.
"My mind inevitably gets fixated on negatives and I find it very difficult to notice the positive aspects of life, which is why the themes of my music are usually so depressing," says the 28-year-old Falls Church, Virginia, resident. "I guess the only positive message of this album is that maybe the process of dying will be interesting and weird and therefore maybe not something to dread all that much."
That said, it might not be totally evident throughout the album's bleeps and bloops, which sometimes are purposefully funky ("Because God Is Dead And Everything Is Sex," ".22") or soulful ("Monochromatic"). Euphrat, 28, explains that Hospital is "basically 100 percent sample-based" — sometimes the "samples" are of his own music, i.e. recording a strummed note and going from there — and made to "sound as synthetic and fake as possible."
Hospital started to come together when Euphrat, who has been making music under the Timmy Sells His Soul moniker for about a decade now, was looking back at material that he had set aside a few years ago. The songs had fresh appeal, and he decided to give the album another shot. It was probably inevitable that it would have a noticeable structure: Euphrat says he's recently been obsessed with "conceptual coherence" and maybe a little too interested in looking at things from a "form-based standpoint." (He's been relatively prolific, too: In April he released the LP Money Always Wins.)
Euphrat, who digitizes books for a living, moved to the D.C. area from Tucson, Arizona, about six years ago in search of like-minded music-focused folks. He's now in a handful of bands, including Tired All The Time and Narkotronik. "I rarely get a weekend to myself," he says.
That adds a special kind of value to Timmy Sells His Soul, he says: "Basically whatever I visualize I can try to bring it into reality without other people interfering with it."