In explaining his new solo release, Wasatch Mecha, electronic musician and Protect-U member Aaron Leitko could easily geek out about music technology like physical modeling and Eurorack modules.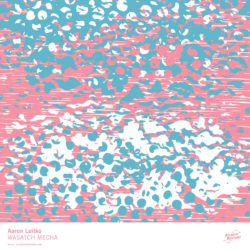 The Mount Pleasant resident stops himself before getting lost in the weeds, however.
"Oh man, nobody wants to hear me talk about this," he concedes. He loves modular synthesizers — think Moogs, with their knobs, switches and wires — and leaves it at that.
"They're very niche-oriented and cult-y and, as result, sort of inherently anti-capitalist and DIY," he says.
He prefers to discuss the non-musical inspirations behind Wasatch Mecha, which
will be available digitally Friday through Atlantic Rhythms, the new locally based label run by his friend, Sean Peoples. (The label also will be releasing a limited run of cassettes.)
Leitko says the EP comes from his desire to create instrumental music with a sense of place.
"If you're representing a city or a group vibe, it feels better than just being a lonely dude with some synths and a Soundcloud account," he explains.
On some tracks, this connotes specific people and locations. For example, closer "Harmony Gold" samples Tizita ballads, a nod to D.C.'s Ethiopian community, as well as the 1432R label, which released an EP by Leitko's Ocobaya project with Protect-U partner Mike Petillo in July.
Wasatch Mecha, the title itself, refers to Leitko's childhood in Utah. The first word is taken from the name of the Wasatch Range east of his home in Salt Lake City. "Mecha" is a shoutout to the 1980s anime series, Robotech.
"Robotech is very tied up with my memories of Salt Lake City, where I grew up. My whole family was into it," he says. "It had a lot of robots. And aliens. And singing."
Leitko and Peoples, the owner of Atlantic Rhythms, have a long history of working together.
"He used to run a D.C.-based label called Sockets, which released a CD-R for me, now mercifully out of print," says Leitko. "We also owned a van together. R.I.P. van."
Aaron Leitko and Sean Peoples perform Friday, Oct. 7, at Red Onion Records in D.C.