Greg Gendron is no stranger to feeling like a kind of isolated, home-sick astronaut. He's been a submariner with the Navy; he also spent a good five years in a foreign land — Japan. So it probably makes perfect sense that his duo, Sun Machines, revolves around the concept of space travel, in all its excitement and weirdness.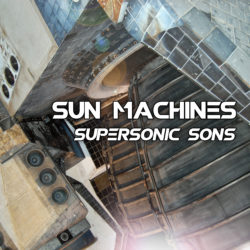 The Maryland resident's second album with D.C.-based collaborator J. Forté, Supersonic Sons, comes out Oct. 14, and the first song released — the bouncy, percussive "Cabin Fever" — is the perfect entry point for a concept album about an intergalactic explorer.
Not only does it tell the story of a bummed-out space traveler and fit within the album's overall narrative, but it also has another meaning for the duo: Forté had been working from home at the time of writing lines like "The pressure's building on the outside/The pressure's building on the inside."
"I thought he wrote the song about being trapped in his apartment, teleworking, and how he just wanted to not be teleworking," Gendron says. It was unintentional, but Forté acknowledged later that the thematic overlap made sense, Gendron says.
In the same way that astronauts have to improvise to meet certain challenges, Sun Machines was the result of some adaptation. Gendron has been a rock drummer much of his musical life. But after resettling in Japan around 2010, that had to change.
"It was so silly — I brought my drums to Japan with me," he says. "Like, in hindsight, like, what did I think I was gonna do with those drums?" The combination of paper-thin walls and the fear of disturbing neighbors severely limited his instrument options. So he started playing around with synths, guitar, bass and programmed drums.
He returned to the U.S. and formed Sun Machines — initially as a home-studio-only project — with Forté. They wanted to record something entirely on tape. And at first, they were swapping ideas via analog tapes. Eventually modern technology — iPads and the like — found its way into their arsenal.
The songs that Gendron had worked on while in Japan didn't actually make it on the band's first album, Human Subjects. They were set aside in favor of a slightly different path. But when it came time to make Supersonic Sons, he came to the table with loads of pre-formed ideas. All said, about half the tracks off Supersonic Sons are versions of what one could call Gendron's "Japan songs."
"It's amazing that it's all pretty cohesive," Gendron says, reflecting on the gap between songs written in a foreign land, half a decade ago, and those written more recently.
Though living in Japan was really cool, Gendron says, it's always a bit weird to start over somewhere else.
"I'm realizing that maybe, over there, I kinda felt like a space traveler or, you know, an alien," he says.
Likewise, when explaining his time in the Navy — where actual astronauts remarked on how similar the submarine was to a spaceship — he notices the running thread.
"I don't know if that also influenced my ideas — like getting in a capsule and kinda going and disappearing for extended periods of time," he says. "I never even really gave that much thought, but I think that probably had something to do with it, too."