It's debatable whether the 1985 comedy Brewster's Millions is a true classic, but the Richard Pryor/John Candy flick has certainly had a long life as cable-TV filler. For Northwest D.C. rapper J-Scienide, a repeat viewing led to an epiphany.
Candy's Spike Nolan character — a minor-league baseball catcher caught up in the financial caper of Pryor's title character — starts sporting a gold catcher's mask on a chain at one point. J-Scienide (A.J. Davis) always liked Nolan, who is known for trash-talking a fictional New York Yankee, among other things.
Then the emcee realized something.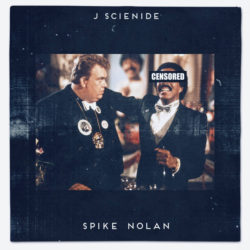 "Like, you know, hip-hop — everybody into gold chains and gaudy-ass jewelry and s**t. He had this gold catcher's mask, and it just stuck," he says. The result? "Spike Nolan," a cavernous boom-bap track that will be featured on The Actual Heat, an EP that the MC expects to release in November. The follow-through from thought to song was instinctive, he says.
"I had a beat playing, I was messing around with some prog — like a Yes record. And I was like, 'You know what? I got something for it.' And we recorded it just like that," he says.
Just don't ask him to identify which Yes record — the exact provenance of the sample escapes him. The Spike Nolan reference still excites him, though.
"Even if you just look at the cover art [of "Spike Nolan"], and you look at that mask, it's just like, biiiing! It's shining, it's just glossy. And it's just real flashy," he says. "And that's how I approached the track when I was rhyming: 'I'm just gonna talk real flashy.'"
Apollo Creed, Five Percenters and Telly Savalas are among the myriad cultural references that spill out in J-Scienide's rush of gritty wordplay. He says the other songs on the EP will match the general vibe of "Spike Nolan."
"Fall and the winter are my favorite times of the year. I was born in the summer, but I always liked the fall and the winter," he says. "I want it to be an album, like, when you out on the train, on a bus, or on 95 North going to New York and it's cold, I want you to play it. … There's a lot of static, you can hear the pops in the records… I just really want you to feel the gristle of it. There's nothing pretty about the album."
"Spike Nolan" was mixed by DMV producer/rapper Kev Brown, who J-Scienide calls "big brother." The EP will include Brown, as well as other artists with connections to the D.C. area, like Ken Starr, Grap Luva and yU, and a few that don't, including North Carolina's Supastition and Detroit's Nolan the Ninja.
J-Scienide expects the record to have profile far beyond home. The single has gotten attention in the U.K. and Japan, he says. And the EP will be the first release by Official Crate Music, the label offshoot of a Baltimore record dealer. (Brown and J-Scienide are also planning a joint album for the fall; it'll be released on Fat Beats, a label known for supporting classic boom-bap sounds.)
J-Scienide says his own songs hardly paint a full picture of his musical tastes, though. He and a friend, Ashton Wingate, co-host a show called Neverland on the new low-power, community-oriented Takoma Radio station. The description: "A mixed-element show combining audio dialogue from classic and cult films with new wave, post punk, shoegaze and soft grunge music." It airs every other Thursday at 11 p.m. (The next one is Sept. 15.)
"Nobody at the station even knows I do hip-hop," J-Scienide says. "They just think we're like two black guys listening to punk. Like, they don't even know!"