Over the last few years, Virginia songwriter Jake Mimikos has been on a journey of self-discovery — both personally and musically. Following a rough breakup with his longtime girlfriend and struggles with anxiety and depression, the Vienna resident felt like he had to start over.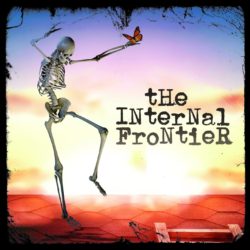 That's why the title of his new EP — The Internal Frontier, which is also his band's name — makes a lot of sense.
"Eventually you hit a fork in the road when you're either going to have to deal with it, or it's going to keep lingering," says Mimikos. "That's kind of what happened."
So the vocalist and guitarist used music to help process his emotions, and find himself along the way.
"I'm trying to satisfy my needs in that moment, so I play until I find something that I feel," Mimikos says. "That's the moment where the spark happens."
Mimikos says he feels like his situation has drastically improved and he wants to be as honest as he can. He suspects that tapping into his personal experiences will make his songs sound more authentic. His optimism resonates on The Internal Frontier, feeding the record's hopeful, hooky pop anthems. Compared to his first EP – the grittier, down-home Chaos to Clarity — it sounds like Mimikos hit the reset button on his emotional state.
He also reset his approach to playing music. After years of playing in different bands, Mimikos says he felt ready for a solo project he could control completely.
"I'm pretty ADD when it comes to music, so the second time around I was like, 'You know, I think I want to try something a little more on the poppy spectrum of things — and maybe try a little electric guitar and maybe a little more synth,'" Mimikos says.
The song that he feels like encapsulates the energy of his new album? "Paradigm."
"For me, that song was like a rebirth," Mimikos says. "When I hear it, it still puts a smile on my face."