Duke Ellington, Marvin Gaye and Chuck Brown may be the best-known musical legends out of D.C. But they're not the only artists who made music history here. Add to that list two R&B musicians who died before their time in the 1970s.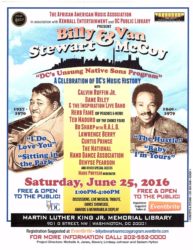 Their names were Billy Stewart and Van McCoy, and this weekend they're remembered at a free event called "D.C.'s Unsung Native Sons." It's part of a larger remembrance project organized by filmmakers Beverly Lindsay-Johnson and Michelle Jones, who began their work when Jones — whose aunt served as the first president of Billy Stewart's fan club — shared with Lindsay-Johnson her admiration of the two native Washingtonians and her desire to help preserve their legacies.
A panel of those who knew or studied Stewart and McCoy are expected to shed light on their music and lives at the Martin Luther King Jr. Memorial Library in downtown Washington Saturday afternoon.
One panelist — who will also sing — is Stewart's first cousin, Calvin C. Ruffin, Jr. Eleven years younger than Stewart, he was dazzled by the singer's chops. He used to watch him and his other cousins sing and fight over girls.
"He was my idol," says Ruffin. "Always has been — even though he was my first cousin."
A soulman, Stewart first achieved acclaim in the 1950s and reached the charts in the 1960s with his unique, upbeat take on George Gershwin's "Summertime" and his own suave "Sitting in the Park."
Stewart came from musicians on both parents' sides, and he performed in family gospel and secular groups as a kid. These days, Ruffin looks back glowingly on his late cousin's talents. But he acknowledges that Stewart had personal problems, too.
Discovered by Bo Diddley and signed to Chess Records, Stewart released a song in 1962 called "Fat Boy" that referred to his own large size. When others mocked him for his weight, it was a different matter.
"When I was with Billy he had an entourage, before we had even heard of the term 'entourage,'" says Ruffin. "If someone called him 'fat boy,' he pulled out a gun on them. I was with him at that time. The only reason I know that is the gun's barrel is about as big as I was. Real long. He would always get an attitude if someone called him that. He had a real complex when it came to his weight, as he was real heavy."
While Stewart wrestled privately with his health, his fans seemed aware only of his multifaceted vocals. He harmonized with Marvin Gaye as fellow substitute members of The Rainbows, and developed a distinctive variation on jazz scatting, where he repeated words in a powerful yet sweet, church-developed manner.
"If someone called [Billy Stewart] 'fat boy,' he pulled out a gun on them." — Billy Stewart's cousin Calvin C. Ruffin, Jr.
"Billy did jazz, Billy did blues, he did lots of things that fit his style of music," Ruffin says. "The thing that excited him most was when he did George Gershwin." He adds that many people, including record-label executives, failed to understand Stewart's desire to fit jazz, blues and R&B into his sound.
In January 1970, several months before his 33rd birthday, Stewart and members of his band were killed when their Ford Thunderbird collided with a substructure support of a bridge, then plunged into a river in North Carolina.
Ruffin says that two months before the crash, Stewart told him that, because of his struggles with his weight and with the record industry, he knew he hadn't treated people as kindly as he once had.
"It was almost like Billy was confessing to me — all the people that he stepped on, all the people that he hurt, and that he was going to change and come back a different person," Ruffin says. "He was going to help me out and some of my female cousins. He wanted to make amends."
* * *
Van McCoy is best known for his huge 1975 disco hit "The Hustle," with its distinctive flute melody. He also wrote and produced R&B songs for many artists throughout the 1960s. Like Stewart, McCoy learned to play the piano when he was young, sang in the church, and later emoted street-corner doo-wop in a high school vocal group. His ensemble was called The Starlighters.
McCoy later enrolled at Howard University, but after two years, music beckoned and he moved to Philadelphia where he started his own record label.
The D.C. native's songwriting skills caught the ears of songwriter/producer greats Jerry Leiber and Mike Stoller, who hired him as a staff writer and arranger. McCoy was soon writing songs for Jackie Wilson, Gladys Knight and The Pips and Barbara Lewis. For the latter, he penned the hit "Baby I'm Yours," later featured on the Bridges of Madison County soundtrack.
McCoy also worked with D.C. R&B artists such as Peaches and Herb and The Choice 4 before he scored his biggest hit with "The Hustle," which he co-wrote in New York City after checking out the disco scene there.
Four years after "The Hustle" made it big, McCoy died suddenly of a heart attack at age 39.
Mark Puryear of the Smithsonian Folklore Center for Folklife and Cultural Heritage, who will be moderating Saturday's panel, describes McCoy as "very focused." He "directed and mastered his craft," arranging strings, horns, an orchestra and a rhythm section. Production-wise, Puryear says, "there was nothing he couldn't do."
"Billy Stewart and Van McCoy: D.C.'s Unsung Native Sons" takes place June 25 from 1 to 4 p.m. at the Martin Luther King Jr. Memorial Library.