It was 1985. Nalinee Darmrong was 17, and she had just graduated high school. Friends took her to see the legendary English rock band The Smiths at D.C.'s Warner Theatre — and the show literally changed her life.
They waited outside the band's hotel overnight and befriended guitarist Johnny Marr the next day. That connection led Darmrong to follow the band on several tours over the next year and a half, taking pictures behind the scenes and onstage. Those photographs are the subject of a new book from Rizzoli Press, The Smiths, as well as a gallery exhibition that begins Friday at Studio 1469 in Columbia Heights and includes a talk and book signing on Saturday.
The Smiths — Marr, singer Morrissey, bassist Andy Rourke and drummer Mike Joyce — broke up in 1987. Darmrong, who is now based in Maryland, talked with Bandwidth about photographing The Smiths at their peak while they toured in support of their 1986 classic, The Queen Is Dead.
Bandwidth: You were just 17 when you decided to follow The Smiths.
Nalinee Darmrong: I was a wee pup, yes.
What was it about the band that made you want to follow them around?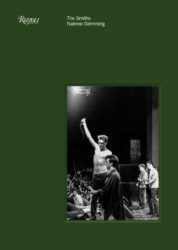 It wasn't it was The Smiths that I was following. Everything kind of happened organically — my friend Tony got me into The Smiths' music, then he got me my first ticket to my first show. And it wasn't until I saw the live show that I was thinking to myself, "Woah, this is a really different band and I really like the energy." I really had no preconceived notions of taking pictures of them or anything. So I went to the D.C. show, and I met Johnny, and he put us on the guest list for New York, which was two shows. My other friend had gotten me a ticket for Philadelphia, which was right after D.C., so it seems kind of kismet that I was supposed to go to all of these shows.
So right after New York they traveled to California, and that's when I started taking pictures, I believe. But my love for The Smiths grew, I guess — I wasn't that familiar with them until I kept seeing shows and kept learning about their music and their fans, and them. And just fell in love with them, just like everybody else did.
So you were more of a D.C. punk at that time?
Yes! I grew up in the D.C./Dischord punk rock scene, and was around D.C. a lot — the land of protest, and one thing that struck me about the first Smiths show I saw was the same energy. And I find it interesting that the Smiths are compared to a punk rock band now … and the time I wouldn't have thought so, but then when I think if D.C. punk culture and the DIY culture of promoting yourself and [doing things] as you wish and not selling out … and just being there for the people, political messages, et cetera. So, I don't see that characterization as being that far off.
So you weren't taking photos until several shows into following them, right?
It was D.C., Philly, two New York shows — because that was just a whirlwind in itself, kind of an extended long weekend. And then Johnny Marr, Andy Rourke and I think Mike Joyce — they all said, "If you want to come to California that would be amazing." Johnny said, "I'm getting married … and we're doing a civil ceremony, so if you guys could make it, that would be amazing," and we were just so flattered that they felt so comfortable with us, and that they were just great people. We tried our best to make it [to the wedding ceremony] but we missed it — but we made all the rest of the shows.
What made you pick up a camera, though? Were you an employee of the band? When you started shooting, you got a photo pass, obviously — how did that work out?
So, I was not a photographer. The Smiths was the first band I shot extensively … I brought my camera and they already had gotten to know me a little bit, so they said, "Sure, just take your candid pictures," and I guess they gave me a little bit of restriction at the beginning … I would get single photo passes for each show, but after California — I think it was about four or five shows — then Scotland was two months later, and they were like, "Let's save some paper and money," and they just gave me a photo pass. That's when I got all the access to shoot wherever I wanted. … But yeah, I was definitely a novice.
So you went to follow them on a tour of Scotland.
Yeah, it was a small tour, I think 10 shows. With friends … one of my biggest memories is crossing on the ferry from Inverness to the Shetland Islands — it crosses, like, three bodies of water, and everybody got sick but me, I have no idea why. So everybody felt this huge sense of accomplishment when we got there. … Everybody traveled to get to the same place by the same means, so it was just much more intimate.
What did your parents think?
So, I've always been a rebel. And I've always been pretty self-righteous, and in hindsight, 30-years-plus, I'm so grateful to them. I'm an only child, and I guess they always encouraged me to be independent, and they gave me some boundaries but they really kind of let me do whatever I wanted. So I pretty much begged to go to Scotland.
So it wasn't the kind of thing where you were being paid by the band to shoot, so how did you afford all of this?
I paid off my credit card for three years afterward, but I worked a lot in-between. I worked a couple part-time jobs, and I stayed with friends. There's this whole Smiths community, as people know who have seen the band, who have traveled around, and I would stay with them or hostels, B&Bs, they were a lot cheaper back then, and they were quite affordable, and I just made it work.
So this was quite different from the life of a groupie, let's say.
All I can say is that I really didn't see too much of that. … I saw girlfriends and wives there a lot, which I thought was pretty cool, because the shows felt all-inclusive rather than, like, "When band's on tour, that's it." So I thought that was pretty cool. Yeah, it was definitely a different atmosphere to shows that I've seen since then. I'm one of the house photographers for the 9:30 Club now, so I see all different kinds of environments, and have shot many shows since this time, and yeah, it was one of the more modest environments … everybody was pretty modest and humble and chill, and it wasn't super "rock 'n' roll" in that sense.
What was your average day like? How much did you interact with the band by the time you were more of a fixture in their crew of people?
I would have to travel … I would have to find a place to stay … get to the venue … they were so kind — a lot of the times I would get to go to the sound checks, just hang and take my candid shots. Because if people get the book, they'll see that there are a lot of candid shots of the crew and the cities. There's one pic of Mike and Andy in the pool, and another one of them just talking to fans from an overhead shot, which I liked. I liked being a fly on the wall, but I always had my camera. … Then we'd go off to eat. Sometimes I was with my friends, sometimes I was alone, but I knew I would always meet up with people later. … And then it was the show, and all the energy was on, and I did my thing. Sometimes they were busy, sometimes they would hang out, it just depended on the evening.
Nalinee Darmrong On Songs From The Queen Is Dead
"I Know It's Over" — "It's a sad one, but at the same time it goes back to what I was saying before about Morrissey … I think there's an irony to this song that people don't get if you haven't seen him live, or if you don't get him or his interviews. He's kind of winking at everyone, as well, in this song. I think he's saying, you know, "Everybody's felt this at some point or another in their lives, and it's OK, and you shouldn't be ashamed of it." Wallow in it if you have to for awhile, because that's the only way you're going to deal with it."
"There Is A Light That Never Goes Out" — "All these songs that talk about love lost, and sitting in your room and contemplating why you're alone, and just fantasizing about being loved — every human on Earth has been there, and this is one of those songs that evokes that emotion and takes you back to when you were 13 and when you were 17."
"Bigmouth Strikes Again" — "I've seriously lost 100-150 pounds total, dancing my butt off to this song, since then."
Specifically more to the band members, is there anything that sticks out as your favorite memory? You may have been the fly on the wall, but a lot of these photos are pretty intimate, too.
One of my fondest memories [was at one of the first two New York shows], and I was in the front, and the fans were kind of pushing me up to get on stage, and the bouncers, these big dudes, were punching — literally punching me — to get down, and I didn't know what to do. … and I just sat there levitated above the hands of these fans, and Morrissey saw me, I guess, and he, like, pulled me out of the crowd, and I just hugged him for maybe the whole song … I was just happy that someone realized the predicament I was in. It was great because the fans cheered, like in the back, but I don't think they had any idea of what was happening. I was just so thankful for Morrissey for that moment, alone.
A memory of Johnny: I don't remember what show, but it was later on, I think on the last U.S. tour … I was [onstage] dancing, and Johnny was just being his anti-solo, rock-god self, and he was just talking to me about the day. He said, "How was your day, Nalinee?" I was like, "It was lovely, I had a really nice cup of tea" — that's why I worship him now as well as I did then, because he was just so smooth.
Was he playing a song?
Yes! He was playing a song while he was talking to me — and dancing. He was like, "You're a really good dancer, Nalinee," and I'm like, "You've got some moves, too, you're totally cutting up a rug, playing the song, talking to me about my day."
People that know The Smiths, there are probably lots of words that come to mind, but the welcoming you onto stage and hugging you, that sort of fits that theme of sensitivity, there was a lot of openness —
Yes!
You spent a lot of time around Smiths crowds in the '80s. What were the characteristics of a typical Smiths crowd in 1986?
One thing I would like to say is that The Smiths always like to blur the artist/fan boundaries, artist/crew boundaries, artist/venue boundaries. They always encouraged crowd participation. At the end of all their shows … you had a chance to go onstage and hug them or dance with them. … Lately I've been talking to people that were at shows then, and it's definitely this communal feeling — like we were there at this really special time, and we didn't know how amazing a show could be until we saw shows after this. Because we were all quite young.
So by the time this was all over — the band, and obviously your opportunity to take photos of the band — you were still a teenager, you know?
18!
Was it a letdown to realize you couldn't do it anymore?
Oh no, I was very happy to go home. In a way, I didn't experience what they experienced, but I was quote-unquote on the road, as well. At the end, I helped clean up the tour bus — that's what I did, I would like, clean up, or I'd help out as much as I could because they got me into all these shows. So I was really, really thankful, and I guess I've always been kind of like that. But I was definitely happy to be in one place for awhile. And just kind of enjoy the memories from the whole experience.