Named after a true-to-life obelisk that stands in the center of the Place de la Concorde in Paris, "Luxor Obelisk" (listen below) — the third track on Crushnpain's recent All Mountains EP — takes an unexpectedly playful approach to themes of loss and possessiveness.
"It's sort of a meta-reflection on what it means to lose something that you thought was yours, the thing that makes you whole or your masculinity complete," says multi-instrumentalist Austin Gallas, 26. "Because an obelisk is essentially just a big c**k in the air."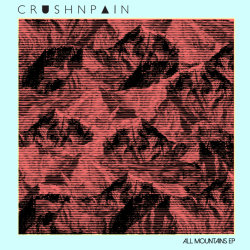 But as playful as it may be, "Luxor Obelisk" broaches a serious issue in many relationships: an imbalance of power.
"It's really a love story, exploring what it means to have feelings of possession and ownership over someone, and sort of taking a jab at male possessiveness," says Gallas, who lives in D.C.'s Columbia Heights neighborhood.
The song showcases the contributions of Gallas and collaborators Erik Sleight (also of Stronger Sex and Br'er) and Ben Schurr (Br'er, Pree) in equal measure.
"Ben has done a lot of really rough industrial noise stuff on it, and Erik was really into crafting a lot of cool fancy synth parts," Gallas says. "Then I sort of arranged the song and did the vocals, but I think it's a good all-around display of what we're up to."
What they're up to is using odd instrumentation — like a mandolin played through a series of pedals — to create a blend of deep swooning drones and sparkling synths, hiding a driving dance beat that detonates halfway through the track.
"[The song] really builds up and then eventually explodes in a way that none of the other songs do," says Gallas. "It starts in one way and then it totally turns into something else halfway through and kind of lets loose."
Because of the song's dynamics, Gallas points out that it's one of their most fun tracks to perform live.
"It allows us to be a bit experimental with the structure," Gallas says. "It's not too confined to the logic of the song, so we have a lot of fun with it live. It really gets big and juicy."
CrushnPain plays May 19 at The Commune.