Emily Henry is taking baby steps. She jokes that she won't be a real songwriter until she's written 100 songs. She's written 70 so far — and this month, she releases six of them on her debut EP.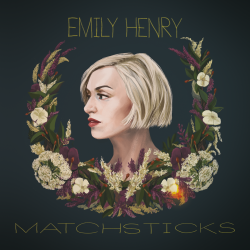 "I like to treat a lot of my songs like tiny stories," says Henry, 29.
That's how the Arlington native approached her song "Hands" (listen below), a highlight from the EP, Matchsticks, out May 15.
"The story of this song is about a person who is trying to reach out to a friend who is having trouble trusting — and just trying to express that that's an understandable feeling. Everybody goes through those moments where they don't know if they can trust their own feelings," Henry says.
The songwriter, who has written and performed songs since age 13, grew up jamming with her family members. Her parents had a band that played oldies covers, and she says these days, it's not unheard of for her to break into a four-part harmony with her mother, godmother and godmother's daughter.
"I've been hearing music in my house in rehearsals and stuff since I was basically born," she says.
Henry's mother makes a cameo as a backup singer on "In My Eyes," another cut from Matchsticks, and mom and daughter will sing together when Henry plays Arlington venue IOTA May 15.
But Matchsticks isn't strictly a family affair. The EP features Suvo Suri on electric violin and Lighting Fires member Andrew Gaddy on vocals and instrumentation. And while her parents' love of folk and country has influenced her music, Henry takes her sound in a different direction, imbuing her songs with indie sensibilities and pop flourishes.
She's excited to release the EP, then finally hit the road for a summer tour.
"It is hopefully just the beginning of a whole lot of big and beautiful music," Henry says.
Henry plays a release show May 15 at IOTA Club & Café.