Plenty of Washingtonians already salivate over things that are locally grown, organic or vintage. Great news for them: The region's soon-to-be-biggest song is all three.
That's because the most likely candidate for D.C.'s song of the summer comes from a homegrown band with "real" instruments and 40 years of history: Rare Essence.
"Turn It Up" is the newest single from the beloved D.C. band, and it's a crusher. In rock terms, it slays. In millennial terms, it's 10 fire emojis, at minimum. And naturally, that was the idea, says founding Rare Essence member Andre "Whiteboy" Johnson.
"It's a club record — uptempo. There's a beat that we play on this record, and everybody seems to love that beat," says the 53-year-old.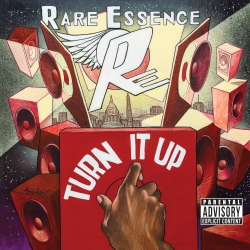 DJ Kool of "Let Me Clear My Throat" fame guests on "Turn It Up," which melds old-school, swinging go-go with hard-charging bounce beat. When Kool screams, "If you ridin' in your car now, turn it up!" you'd be wise to comply. Better yet, pull over.
"Turn It Up" is also the name of Rare Essence's new album, the band's first studio full-length in 15 years. It's out today, one day before the ensemble headlines D.C.'s Funk Parade. Rare Essence commissioned muralist Aniekan Udofia to design the record's vivid cover, and they just dropped a lively and star-studded "Turn It Up" video, directed by Joseph Pattisall and produced by Roger Gastman. (Watch it above.)
In advance of the new album, Johnson talked to Bandwidth about his initial fear of rocking a mic, the limited rewards of a cover song and Rare Essence's revived attempt to take over the country.
This interview has been edited for length and clarity.
Bandwidth: Turn It Up is your first studio album in 15 years. Why did you decide to release a new record now?
Andre "Whiteboy" Johnson: What we've been doing for the past 15 years is mainly just doing live recordings, because those are quick to turn around. But we decided that we wanted to try to get out on the national playing field. … When we were trying to reach out to radio stations outside of the DMV area, they're not so quick to play a live record. They really want studio records more.
The last time we talked to you, Rare Essence was about to be the first-ever go-go band to play South by Southwest in Austin, Texas. What was that experience like?
That was great. I knew it was gonna be good, but it was better than I thought. Because everybody that was at the show — 90 percent of those people had never even heard of Rare Essence. But they partied with us like they had been listening to us for 20 years.
You're the only original member of Rare Essence that's still in the band. How does it feel playing with newer generations of musicians? 
A lot of the guys have been with us for a few years, but it's cool. It helps to keep you on your toes because there's a whole new perspective than what we started with. We were doing things one way and playing a certain type of music when we first started, but now it's evolved into a bunch of other different things.
You've been around for 40 years. It seems like you've had no choice but to evolve.
[Laughs] Right. 'Cause if you keep playing the same songs you were playing 35 years ago, I mean, people are bound to get tired of it. As great as the record may be, it's gonna be like, "Oh, God… come on! Do something else!"
So that's what we've been able to do, and we've been very blessed in that area to be able to come up with something new and creative that the people still like. They still love the classic songs, because we cannot get out of the building without playing "Work the Walls," "Lock It" or "Overnight Scenario." But they want to hear the newer things as well.
I was talking to [Backyard Band leader] Big G about his band's Adele cover, and he said some classic go-go bands aren't big on covers. Rare Essence had its Ashlee Simpson cover, but your new album is all original. How do you feel about covers, generally?
Original music is what really gets you out there. Backyard doing a great job with that Adele cover — that brought a new energy to the Adele record for me. I love what they done with it. But that will only take them so far, like the Ashlee Simpson cover would only take us so far. To be able to get out there and do some originals — "Overnight Scenario" was original, "Lock It," "Work the Walls" — they were all original, so they all have done much better.
Let's go back in time for a minute. I watched the interview you recently did with Take Me Out to the Go-Go, and you talked about how you initially resisted getting behind the mic in Rare Essence.
Oh my goodness, I did not want to. I went into that kicking and screaming. There were many a night that the managers and the band was in the back room giving me a pep talk — "Come on man, you can do it. Let's go. We got all these people out there waiting on you." And I'm sitting back there saying, "Nope, I'm not going out there, I'm not doing it." 'Cause it was a frightening experience to come from — I was kind of the band director. I was more in between the front line guys and the band. For me to move from that position up to the lead mic and I'm actually running the show, it was absolutely terrifying.
Plus, I knew the fact that [former Rare Essence talker] James Funk at that time was the MVP. Everybody wanted to hear Funk, and nobody wanted to hear me. That's what scared me the most. People were looking at me like, "What are you doing? Why are you up here? We didn't even know you could talk."
How did you acclimate to it?
The crowd sort of changed a bit. All of the old-school [fans] that really liked James Funk, they kind of phased out, and the new crowd that was more into myself and Donnell Floyd started to be the normal audience. So with Donnell and I doing a tag-team type of thing, we were grooming our own audience. Now, we still get a lot of the old-school people to come out to support — especially when we bring James Funk in as a featured artist. Then we get both audiences [old and new].
Rare Essence is headlining Funk Parade this year. What are your expectations for that gig? 
Oh, man. We played a Funk Parade pre-show last year, and it's a completely different audience. I didn't realize that alternative audience was into funk music like that. It's crazy. They know the records! They know the songs. [Laughs] But it's great, though, because they have a good time when they come out.
Have you ever had a white-collar day job?
I haven't. No.
So music is your life's work.
Yeah! I've been extremely blessed to be able to do that. The last job I had was McDonald's when I was 18 and I was trying to buy a car.
That's amazing. 
Yeah. I've been extremely blessed, for real.
There's been a lot of talk about problems facing go-go, like a diminishing supply of venues. What do you think about the health of the scene now? 
I think the scene is in danger, but the audience always finds a way to help keep this music alive. We've gone through this type of thing before — in the '80s and the '90s — but we're still here. We have a lot less venues than we did back then, but we're still here.
As long as the audience is involved — and they've proven that they're gonna be here, after 30 or 40 years — they've just been terrific [about] supporting the music. So we believe that the music will survive. But we want to really be thriving as opposed to just surviving. That's the idea behind putting out this new record.
Rare Essence plays May 7 at the Funk Parade in D.C. More show listings on rareessence.com.