Don't let the name fool you. There is nothing sycophantic about D.C. post-punk band Puff Pieces.
The trio's forthcoming album, Bland In D.C., deals with the big stuff — late capitalism, gun culture, mass complacency — with cynicism and a generous dose of absurdity.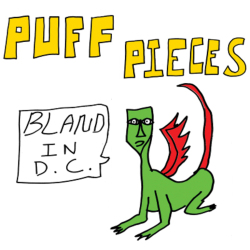 "They're songs about existing in a consumerist capitalist world, from the perspective of someone who's trying to get enlightened," says Mike Andre, the band's bassist, vocalist and chief songwriter. "Several of them are about money and shopping and accumulating things. Some are about violence or nihilism. And all are about deconstructing the ego identity inherent in these pursuits."
Album standout "Goths N' Vandals" brings these ideas into focus. While Andre and drummer Amanda Huron pogo around a two-note riff from guitarist Justin Moyer, the frontman juxtaposes lyrics about destitution in the streets with descriptions of a high-society bacchanalia. An ominous chorus forecasts the collapse of an empire. The message could apply to ancient Rome — or the present day.
As with the rest of Bland In D.C. — out April 1 on Lovitt Records — the song is fast, dissonant and performed in tight unison. Puff Pieces occasionally deviate into free-form chaos — like on the frenzied "Object Accumulation" and "Wondrous Flowers" — and when they do, it hits like a panic attack.
Anxiety permeates the album, though Andre says the band was just aiming for "a kind of whimsical ridiculousness."
The band's intentions are certainly evident in the album title, a cheeky nod to D.C. hardcore legends Bad Brains and their early '80s anthem, "Banned In D.C." Puff Pieces take that sentiment of outsider frustration and update it for an era of widespread gentrification.
"Mike was walking to work one bright spring day amongst hordes of eager young professionals when the phrase 'Bland in D.C.' first crossed his mind," says drummer Amanda Huron. "It seemed to perfectly encapsulate how we've been feeling about D.C., and being punks in D.C., and being in a band here. And somehow it seemed like a sentiment our fellow travelers would relate to."
Puff Pieces boast a respectable D.C. punk pedigree, with members logging time in local bands Caution Curves, Antelope, Edie Sedgwick and El Guapo. The trio came together several years ago, originally as a one-off project.
"The stated intention was to record some songs, play five shows and then disband, as Amanda and I were preparing to move to China," says Andre, 41. "We didn't move to China, though, and the band is seemingly continuing on, thanks to some sort of blind inertia."
Puff Pieces performs with Jack On Fire, Nice Breeze and Escape-ism March 19 at Songbyrd Music House.