When Bandwidth inquired about Brutalism's new single, "Amulets," the group responded as a single entity.
"The best way to understand Brutalism is to view it as a nonhierarchical music collective with authoritarian tendencies," they decreed. "All of our ideas belong to each other, and all carry the full force of sonic law."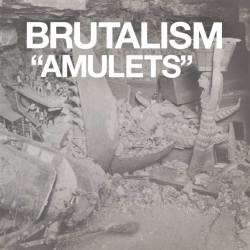 The D.C.-based electronic act consists of Gavin Holland, Zach Carter and Boston resident Benjamin Bruno. All musical ideas are credited as collaborative — but the dynamic has a decidedly Teutonic edge.
"Each member has sonic veto power," they declare, "but given the political cost, it's rarely invoked."
The harsh tone is certainly in line with Brutalism's first singles, "Friday Night (Home Invasion)" and "New Empire." The songs were fist-pumping anthems celebrating the violent and the despotic. They both appeared on No Rave, the group's cassette EP released in November.
"Amulets," on the other hand, is a mood piece with largely hushed vocals. The song progresses like a deep breath. Soft piano notes punctuate a bed of krautrock-style synths, while singer Bruno sighs wistfully about the inevitable end of all things.
"We wanted to expand our horizons to encompass death itself," the group explains. "If you can capture death in song, you can defeat it."
The cover art extends this new direction. While Brutalism have previously identified themselves with photos of solid, large-scale structures, "Amulets" is presented with a close-up view of a ruined Ancient Egyptian tomb.
"Even monoliths crumble in time," they state. "The tomb is shattered. It would be scarcely recognizable to its architects. Yet, in an important way, it endured."
"Amulets" is the first of several singles Brutalism is releasing in 2016, and they plan to perform live again this fall.