For a couple of guys who have married and settled down, touring with a rock band can be tough. So Bryan Flowers and Steven Rovery are doing the next best thing.
This weekend the two musicians, who play in Northern Virginia pop-punk band American Television, are putting on the inaugural Breakin' Even Fest at Songbyrd Music House & Record Cafe in D.C.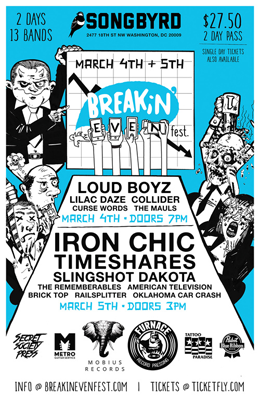 "As we've gotten into our 30s and life has progressed," Flowers says, "it's gotten harder and harder to do some of the touring and other things that bands do." But that doesn't mean they're bowing out of music altogether.
Taking place March 4 and 5, Breakin' Even Fest will feature more than a dozen bands from across the D.C. region, including local favorites Lilac Daze and Loud Boyz, as well as New York rockers Iron Chic and Timeshares.
The fest focuses on tuneful punk rock, a style Flowers says he doesn't encounter enough in the D.C. scene.
"There's a lot going on in D.C. already," the drummer says, "but we saw a little bit of a void in the music that we really like — melodic pop-punk with a little bit of a hard edge."
D.C.'s biggest punk festival, Damaged City, specializes in a faster and more aggressive side of the music. Flowers says that fest "is really great, but it's not really the music that Steve and I like."
To help pay for the event, Rovery and Flowers have arranged a number of local sponsors, including Mobius Records and vinyl-pressing company Furnace Manufacturing, which have each donated merchandise to be raffled off over the course of the weekend. Rovery says each "mystery merch pack," given away a few times each night, will be worth around $200.
In addition to the ticket prices — an affordable $27.50 for the entire weekend — proceeds from the raffles will go directly to the bands. Rovery and Flowers won't be taking any for themselves.
"We came up with the name Breakin' Even is because our goal is to break even," Rovery says, "but first and foremost we need to make sure the bands get paid."
Breakin' Even Fest takes place March 4 to 5 at Songbyrd Music House and Record Cafe in Adams Morgan.