With emotions running high about the pending redevelopment of Union Arts, a large DIY venue and arts space in Northeast D.C., local musicians are reaching for the best tool at their disposal: a benefit concert.
D.C. punk band Priests will headline a benefit show Friday at 411 New York Ave. NE, the location of the arts facility slated to become a boutique hotel. Also on the bill are experimental duo Janel and Anthony, synthesizer musician Adriana-Lucia Cotes and Ian Svenonius' solo project, Escape-ism.
The building on New York Avenue has operated under the name Union Arts since 2013, serving as a work and practice space for musicians and artists. Before that, it was used regularly for underground concerts and dance parties. But property taxes on the building became too high for the previous owners, and they sold the property last summer.
D.B. Lee Development, Inc. Construction and Brook Rose Development, LLC, purchased Union Arts in June 2015. They later announced plans to transform 411 New York Ave. NE into a high-end hotel with eight studios and other art spaces managed by the nonprofit CulturalDC. But up to 100 artists use the building on a rotating basis, according to supporters, and the new configuration is likely to push many of them out.
Supporters of Union Arts packed a zoning commission hearing Feb. 1. Many offered testimony about the scarcity of affordable arts space in D.C., which has rapidly gentrified in the last 15 years.
Janel Leppin of Janel and Anthony says the outpouring of support inspired her, and she decided to organize a show to bring attention to the situation.
"More than anything," Leppin says, she wanted to "raise awareness for the need for spaces for artists in D.C."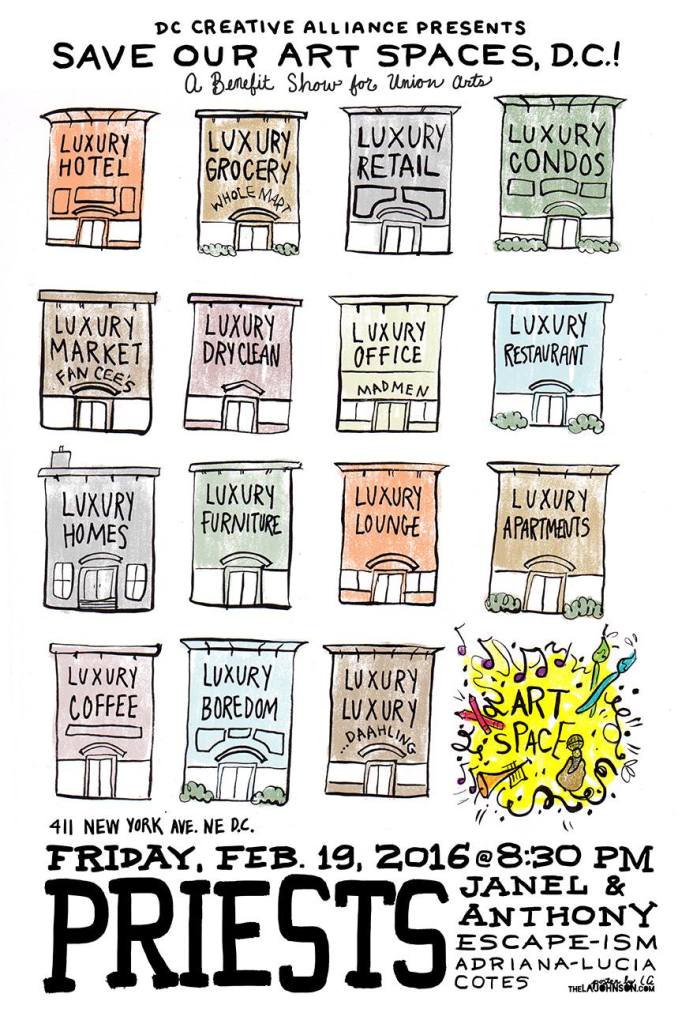 A flyer for Friday's Union Arts benefit show
Leppin has performed at Union Arts numerous times. She says when choosing bands for the benefit concert, she picked acts who have been involved in the space in some way.
Priests fit that description. The band's members have set up shows at Union Arts and two of them testified Feb. 1 on the importance of Union Arts to local music.
"It's definitely a hub of music activity," says Priests singer Katie Alice Greer in an interview. "It is a unique building right now in D.C. in certain ways. There aren't a whole lot of other spaces left that are not private homes or businesses. … There's not a lot of middle-ground spaces where people are actively making art and putting on shows for any band that they think is cool and interesting — in a way that's not really driven by alcohol sales."
But saving the building as it is now may not be feasible. According to Gail Harris, managing member of the LLC that sold Union Arts last year, the rent paid by artists did not cover the building's property taxes. The new owners have asked the current tenants to vacate by Sept. 1. (Though at the hearing, D.B. Lee President Dennis Lee said that date may be flexible.)
CulturalDC says the new studios will accommodate "up to 20-plus artists" who can apply in an open call. Developers point out that musicians will also be considered for art spaces.
But current tenants are still challenging the redevelopment plans. Leppin says proceeds from Friday's show will help the building's artists with "whatever cost[s] they are faced with." She later writes in an email that funds should go to help artists who are trying to find new studio space.
"We will raise the money to help Union Arts continue its work as an arts venue and basically a community center for the public — for as long as it can," Leppin writes.
Desirée Venn Frederic, founder of vintage shop Nomad Yard Collectiv, which operates out of Union Arts, says that means lawyer's fees. "In our current fight we acknowledge we need legal support and legal guidance," she says.
The number of people who signed up to give public testimony Feb. 1 was so great that a second zoning commission hearing was scheduled for Feb. 23. Leppin says she hopes Friday's show sparks enough interest to overwhelm that hearing, too.
The benefit concert for Union Arts takes place Feb. 19 at 411 New York Ave. NE. 8:30 p.m.
Top image: Protestors at a Feb. 1 zoning commission hearing on the planned redevelopment of Union Arts.