Directly across from the entrance to Howard University, a series of small businesses lines a strip of Georgia Avenue. Nestled in the middle is a plain, red three-story building that looks like just another storefront, except for the pair of giant speakers out front that blast music into the street.
Undisturbed by the forces of gentrification reshaping other stretches of Georgia Avenue, the building houses Listen Vision, a full-service recording studio. It's only been in this location since 2006, but Listen Vision has already played a key role in D.C. music history.
Hip-hop and R&B have boomed in D.C. over the last decade, and Listen Vision deserves part of the credit for that.
Wale, Tabi Bonney, Trey Songz, Fat Trel, Raheem Devaughn, Maino — autographed CDs and memorabilia from those artists and many others hang on the walls in the studio's main lobby. They all benefited from the company's services — recording, mixing, mastering, photography, graphic design and digital distribution — in one way or another.
But it's obvious what the company is banking on. Entering the studio you are greeted by the neon "on-air" and "hot beats" signs of the broadcast room, the focal point for the online station WLVS Radio.
A 'beautiful mistake'
While aspiring young MCs and hopeful musicians still put their dreams in the hands of Listen Vision's recording booths, the business is now split 50-50 by WLVS. The station hosts 74 live shows every week. But unlike podcasting and traditional radio, WLVS has a visual component. A camera rolls the whole time, and video streams of the station's shows go up online.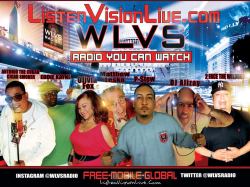 Starting WLVS was "a beautiful mistake," says Listen Vision's founder and director of operations, Jeremy Beaver.
"Right around when the economy couldn't have been worse, this group was paying good money to set up their own equipment in the studio space and stream live. It got me thinking," says Beaver, aka DJ Boom. "So I got on the horn and called my old radio friends, and the next thing you know, I looked up and we had 13 shows, then 27. Then at 50 I thought, 'Oh God, we might have something here.'"
This happy accident has turned into what Beaver — perhaps dubiously, given the rise of podcasts — considers the future of broadcasting.
Eddie Kayne, the self-professed "voice of independent musicians" and a host of one of WLVS' 74 programs, seems to agree with Beaver.
"You no longer need the machine. [The] Internet has made it even more possible for people to become stars overnight," Kayne says.
A 30-year veteran of the music industry, Kayne says that his show on WLVS allowed him to compete with local radio stations that weren't playing local artists.
There was "no platform for [independent] artists," Kayne says, "and I thought that there were so many that weren't getting the opportunity to be discovered." He claims partial responsibility for breaking the careers of locals, including rapper Fat Trel, who's signed to Rick Ross' Maybach Music these days.
"Now, it's funny that those stations recommend me to out-of-state promoters and businesses when they want to deal with independent artists," Kayne says, "because I have such a voice here."
In essence, WLVS is radio you can watch. And apparently, people do. According to Beaver, more than 250,000 listeners and viewers from 135 countries tune in each month to shows that run a gamut of topics including talk radio, dating advice, a dude reminiscing about '90s music videos and even a comedy hour.
Beaver says the key to WLVS' success is high-definition, direct-to-consumer streaming that can be accessed anywhere.
"I say to people, 'Would you rather be local in radio, or global in video?' It's a no-brainer."
Doing the most
While WLVS sets the table for Listen Vision's future, there are still plenty of people looking for something simpler: A place to test out a concept. A professional's advice. Support for an idea. For them, Listen Vision exists as much for the community as for the services.
Renee Allen is a retired military veteran, singer, public speaker and promoter who lives in Maryland and hosts a weekly show on WLVS. She says that Listen Vision has been instrumental in helping her find herself, as well as new clients.
"You walk in on that stage, into that studio and it's 1-2-3-4," Allen says. "Everyone knows their parts, your timeline, and everyone is just rocking and rolling."
The studio recently told Allen that they want to help her pitch her show to the Oprah Winfrey Network, Eccentric and other mainstream networks. "They're really about creating platforms, multiple platforms where people really do grow and develop," she says.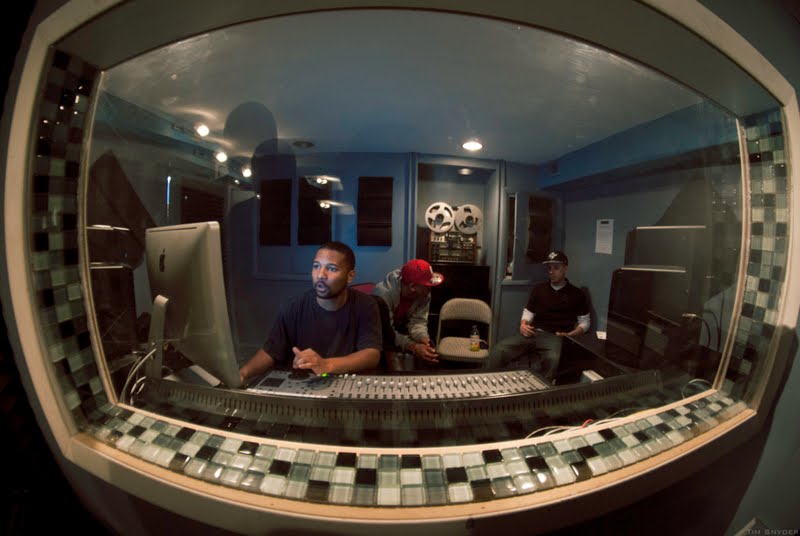 Along with women like Allen, independent rappers, singers, DJs, producers, musicians, businesses and students all take advantage of the space. Beaver rattles off the various services: "tours, field trips, seminars, classes," including a training curriculum called LV Academy, which teaches DJing, production, engineering, beatmaking and video directing.
Sometimes all the people want, though, is an old-school setup. Beaver points out the smallest studio, a closet-sized soundbooth with foam walls and nothing but a fuzzy microphone and tall stool in the center.
"The kids always love this one," he says.
An evolving enterprise
Listen Vision dabbles in live performance, too. If there's a prominent event in the neighborhood or a big parade passing through, the studio will host a showcase or a mini-concert on its front steps.
The now-defunct Caribbean Carnival parade was a prime opportunity for Listen Vision. So is Howard University's homecoming weekend, particularly the day of the campus Yardfest concert.
But while those showcases are conspicuous calling cards for the business, Listen Vision is ultimately focused on recording and streaming content. Beaver started the business as a record label in an era — the late 1990s — when the Internet was just beginning to have an effect on the music business. Applying what he learned then, and in jobs with XM Satellite Radio and Virgin Records, he shifted his focus to remaining a trusted name and face in the community, while meeting the demands of increasingly tech-savvy musicians.
His model appears dependent on drawing in new clients via WLVS, and retaining them by showing what Listen Vision is made of once they get there.
Beaver points to what he calls his "magnum opus," "10 Rhymes or 10 Dimes," in which longtime client Cisco Kid chronicles the history of hip-hop from 1978 to 2008 by impersonating 10 legendary rappers.
"I produced it myself, it took a year, and it contains over 550 samples," Beaver says. It appears on the company's recent compilation, Best of Listen Vision 5.
It is yet to be seen whether Beaver's claims about Listen Vision's evolution and the future of broadcasting will hold true — he admits there are challenges to stay ahead of the technological curve, to find investors and perhaps partners that can help the business expand, and to decide if remaining in the Howard University neighborhood as that expansion happens is realistic. But at 1 p.m. as The Olivia Fox Show's namesake host holds court in the front studio, the speakers outside are bumping for anyone nearby to hear — and a new listener has just tuned in.
"Maybe it's the person who checked in a couple of weeks ago from Mayotte," laughs Beaver. "Have you ever hear of Mayotte? We didn't even know [it existed] until they started listening."
All photos courtesy of Listen Vision