Tune into WPFW 89.3 Saturday afternoons, and you're bound to hear Hardway Connection. The Maryland combo wrote the upbeat earworm "Southern Soul Rumpin," the opening theme for Dr. Nick Johnson's R&B show by the same name.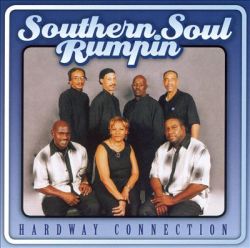 It sounds old fashioned, but Southern soul — in the voices and instrumentation of dance bands like Hardway — doesn't imitate the past. "Southern Soul Rumpin" came out in 2008. The group combines synthesized sounds with soul and blues from the 1960s through the present day — not to mention risqué lyrics.
But that's where Hardway Connection's modernity ends. The band — which is opening for old-school D.C. singer Sir Joe Quarterman at Bethesda Blues and Jazz Jan. 31 — doesn't make it easy to keep up with its saucy brand of R&B.
Southern Soul Rumpin, the group's third and most recent album, is out of print. (Though the group still sells copies at shows and online.) Hardway rarely uses social media and its website doesn't list any upcoming gigs. Yet that doesn't seem to matter, because Hardway Connection is in high demand, according to Robert Owens, the group's mild-mannered bandleader and guitarist.
The group has earned a loyal following on the Southern soul and beach-music circuits throughout the south, from Virginia to Texas. Their fans dance the shag, a swinging style with roots in classic R&B and rock 'n' roll. Hardway Connection's 1999 album, It Must Be Love, proved to be a coastline hit.
The title song's harmonies — delivered by gospel-rooted, powerhouse vocalists Jerome Mackall and Toni Love — attracted the attention of Carolina beach-music stations and promoters. Soon, the band was hearing from shaggers who wanted to bring them to the Southern coast.
Owens chuckles when he talks about getting nominated for a Cammy Award, the Grammy of the Carolina beach-music scene. Not knowing what beach music was, he says the band started listening to Beach Boys songs, figuring that's what they'd get requests for.
"When we got there, we learned it was just oldies-but-goodies set to a certain tempo," Owens says. "It ain't really nothing but hand-dancing. The beach-music stations play our music, but they speed it up or slow it down so you can shag to it. I was listening to one of our songs and I said, 'Is that us or someone else?' They had slowed Jerome's voice down."
But like a lot of current Southern soul artists, Hardway likes to get a little raunchy, writing songs brimming with double entendres and tales of cheating partners. On "Too Short (Peeping/Train)," Hardway transforms a Roy C song into a medley, adding lyrics about a woman who leaves Owens because of his, uh, physical inadequacy. That number helped establish Hardway's Southern soul bona fides.
"Down south where we play, 22-year-olds come and see us. Black and white in the Carolinas. All the young ones will be right into it and calling out our songs," Owens says.
In the D.C. area, Hardway plays many Sundays to a largely older audience at Lamont's, south of National Harbor in Pomonkey, Maryland. They've also started alternating Sunday gigs at Cocoa's Authentic Caribbean Jerk restaurant in Lexington Park, Maryland, in addition to various private events.
Currently a sextet that sometimes adds extra percussion, Hardway Connection hopes to self-release a new album by April. That project has been in the works for two years.
"It's half-finished," Owens says. "We've been so busy on the road on weekends."
But while Hardway Connection has found success in a niche community, Owens doesn't feel pressure to tailor their music to certain audiences.
"When I started doing it, I didn't even know it was Southern soul," Owens says. "I just did what I feel."
Hardway Connection plays Jan. 31 at Bethesda Blues and Jazz, Feb. 14 and 21 at Lamont's and Feb. 20 at Anacostia Community Museum.