When high art and trashy pop culture meet, absurd things tend to crop up — like the Rope Goat Clan.
The oddball hip-hop quartet has a very particular focus, says founding member Jeffry Cudlin. "Our songs are about giant robots, ancient astronauts and weed."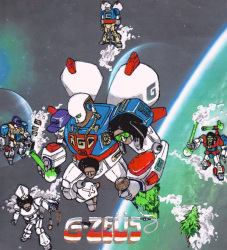 But listen closely to the Rope Goat Clan's new album, and you'll catch references to bluegrass great Earl Scruggs, English Romantic poet Samuel Taylor Coleridge and magician David Copperfield. The release, called Form G-Zeus, is a nerdcore hip-hop saga.
It's also a celebration, of sorts. The album marks Rope Goat Clan's 20th anniversary as a half-serious, wholly ridiculous rap group.
The Rope Goat Clan formed in the '90s at the University of Virginia, Charlottesville, founded by Cudlin and two friends. Cudlin and one of his bandmates had played in another group together, once voted "Worst Band in Charlottesville" by a university newspaper. "We were a tasteful blend of the Butthole Surfers, Big Black, Mudhoney, out-of-tune guitars and self-loathing," says Cudlin, 43.
When another friend proposed starting a rap group, none of them had tried to rap before. But they didn't see that as a problem. The Rope Goat Clan "started playing for confused drunks," Cudlin says.
"Real hip-hop fans sure didn't know what to make of us," he says. "Our lyrics were ridiculous, our music was loud and ugly."
The members created ridiculous names and personas, partly to spoof gangsta-rap culture and partly to protect their identities. Cudlin, who performs as the Word — aka DJ MastaPoopa — is the only one willing to divulge his full name. "The other members of the band wish to remain anonymous as to not draw attention to their extracurricular activities," he says. "As for me, my day job involves being a freak." (He's an adventurous performance artist and professor at the Maryland Institute College of Art.)
Cudlin keeps things down-to-earth when discussing Rope Goat Clan's creative process. "We make a point of weaving fantasy narratives," he says. "Rope Goat Clan is one of those collaborations where if one of us has an idea, the others just pile on, and soon the snowball is just zipping down the hill, getting bigger and bigger."
The clan's lyrics abound with invented slang, like on the masturbation anthem "Doing Doke Things" (listen below). Their mascot is G-Zeus, a character Cudlin describes as "a giant, fearsome, weed-powered combiner robot that the Clan forms when the universe needs defending." G-Zeus looks like '80s cartoon hero Voltron with one leg made of marijuana.
Currently, the group's members are scattered across the country. Cudlin is still local; he lives in D.C.'s Petworth neighborhood. They all have jobs and families.
Yet the artist insists the Rope Goat Clan is unstoppable. He says his group is already working on a followup to Form G-Zeus.
"By the time we're in our 60s," Cudlin says, "we're bound to make this whole rap superstardom thing materialize."
Rope Goat Clan's Form G-Zeus is available on CDBaby, Spotify and Amazon.