Over his 50-year career, shape-shifting rocker David Bowie touched millions around the world, including folks in the Washington, D.C., region. The performer — who died Sunday at age 69 — had a long history here, albeit one that started off on the wrong foot.
On his first trip to the U.S. in 1971, Bowie was detained by immigration officials at Dulles Airport who were "suspicious of his fey manner and flowing pre-Raphaelite locks," according to Bowie biographer Paul Trynka. He later made his way to Silver Spring, stopping at the family home of Mercury Records' Ron Oberman and chowing down at a local restaurant, Washington City Paper recalls.
Bowie would go on to play numerous concerts at Maryland's Capital Centre, including a stop on his Diamond Dogs tour in 1974. Thirty years later, he played his final local gig: a 2004 concert in Fairfax. Reviewing the show for the Washington Post, Dave McKenna wrote, "with a set that covered more than three decades of classic recordings in two-plus hours, David Bowie reminded a crowded house at the Patriot Center on Sunday how far ahead of the curve he so often was."
Fans of the late music and style beacon gathered for a memorial in D.C.'s Malcolm X Park last night, and H Street hangout Sticky Rice hosted a Bowie karaoke session. But if you missed out, there's plenty Bowie mourning/celebrating left to do in the capital region.
Check out this list of local tributes, below. (Did we overlook one? Drop a comment below, tweet at us or email bandwidth@wamu.org.)
State of the Union/David Bowie tribute
Jan. 12 at JR's Bar & Grill
This Dupont Circle bar offers a double whammy tonight: a drinking game for President Obama's final State of the Union address plus a Bowie tribute.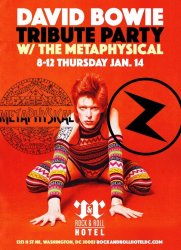 David Bowie Tribute Party
Jan. 14 at Rock & Roll Hotel
At this free party, DJ Ed the Metaphysical spins Bowie all night on the Rock & Roll Hotel's second floor.
Let's Dance
Jan. 14 at The Crown in Baltimore
David Bowie's 1983 single "Let's Dance" was one of his most popular songs ever, and his album by the same name is his top-selling record to date. No wonder — both are dance-floor gold to this day. Thursday in Baltimore, DJ Pancakes spins a night of '80s dance tunes, sprinkled liberally with Bowie's poppiest.
Holy Holy plays The Man Who Sold the World
Jan. 14 at Birchmere
Booked before news broke of Bowie's death, this show at Alexandria's Birchmere features longtime Bowie producer Tony Visconti and ex-Bowie drummer Woody Woodmansey playing the late star's third album, The Man Who Sold the World, in full. As far as local Bowie tributes go, this is as real as it gets.
A Queer Tribute to David Bowie
Feb. 13 at Phase 1
Queer-friendly dance party GndrF?ck "celebrates Trans* folk from all around the spectrum," according to its Facebook page. Next month, the soirée focuses on tunes from Bowie, whose famous gender play and bisexuality made him an icon for queer people everywhere. Resident DJ Ego spins.
Top photo by Flickr user Sarah Stierch and 1974 Bowie image by Hunter Desportes used under a Creative Commons license.