Grasping the appeal of Sunwolf songs doesn't take much effort, but if you spend enough time with the D.C. rock trio, they start to reveal a pleasantly peculiar underbelly. Beneath the shout-'em-out choruses and punchy rhythms there's a subtle tension: Where does the rock 'n' roll compulsion end and the caring begin?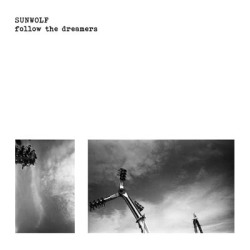 It might seem like a potentially lame question — it applies to any garage band with the slightest pop tendencies, really — but it cuts to the core of Sunwolf. The D.C. group features three guys in their 40s who are lifelong rock listeners and longtime performers, but in many ways, they're still figuring things out. In short: Young band, literally older souls. The results are consistently compelling on Sunwolf's debut full-length album, Follow The Dreamers, which is out now digitally and will see a vinyl release in the spring.
Guitarist/vocalist Tom Bunnell says the recording process was, if anything, a learning experience.
"Making this record made me realize that we were kind of invested in a deeper way," Bunnell  says, "and that was a surprise to me."
Where Sunwolf's 2014 EP Angel Eyes was agelessly scuzzy, Follow The Dreamers is craftier, with more nods to the British Invasion ("Let It Out," "Heart Goes Boom") and riskier rhythms in some spots ("Secada" could be krautrock; "No Sugar" and "Dreamers" have Manchester in their blood). Those sonic upgrades weren't necessarily planned, Bunnell says. Band members recorded the album in drummer Jerry Busher's basement studio on Ingleside Terrace NW, and they kept things focused out of respect for his housemates. (Busher has since moved.)
"There would be evenings where we'd have to go over there and play acoustic, you know, with brushes on the drums … but it actually helped us a ton in terms of getting a little more 'songy' about the songs compared to the EP," Bunnell says.
The overall smallness of the process also left plenty of room for doubt, too.
"Especially doing it on your own, there's no one else around, it's easy to talk yourself out of doing it — there's a thousand other things you could be, should be doing. But then you start making a record," Bunnell says. "And it felt really great and exciting, and all three of us were really excited about it. So we just kind of kept going."
In the end, Bunnell did more singing than ever before. The band's founder and bassist, Rob "Kalani" Tifford (known for his connections to the 18th Street Lounge crew and for running the now-defunct Gypsy Eyes label), still handles some vocals in his half-wildman style, but Bunnell's plainspoken tenor tends to be the focal point. They still trade off lines at times, though. The slackerish "Velvet" is a worthy followup to Angel Eyes' now-classic "Push It."
Busher, both as a drummer and as the album's producer, strove to keep the sound as no-nonsense as possible, Bunnell says. (Busher played percussion and trumpet for Fugazi's live shows at one point, and was in the Dischord Records band French Toast.)
"It's funny, the less [Busher] does, the more he's present in a song," Bunnell says. "It's kind of remarkable. I've learned so much working with him. He'll pull way back as a drummer and do things that appear simple, but they're everything that the song needs."
Ultimately, the band wanted the album to sound "like a real thing, and not just something that we were doing on Saturday afternoons or whatever," Bunnell says, chuckling. "Not that there's anything wrong with that."
Despite the broader palette on Follow The Dreamers, Bunnell says it's unlikely that the band is headed toward anything truly ornate soon.
"I think for us to have like, a little keyboard part, would be a big breakthrough," Bunnell says. "That would be like a Sgt. Pepper moment for us."
Sunwolf plays a record release show Jan. 23 at Songbyrd. The band's "Big Feelings" is featured on Bandwidth's 50 Favorite D.C. Songs of 2015 playlist.