Ras Nebyu is awake, but he doesn't necessarily call himself a "conscious rapper."
"I can't put all of my talents in the 'conscious rapper' box," says the rising hip-hop artist from D.C. Sure, his lyrics cover politics, love and empowerment, but since his laid-back 2011 tape Kennedy Street Teachings, Nebyu has grown upward and outward.
"I was being me [when I started out], but I was being the 'safe' me," says Nebyu, 24. Now he's taking on more — including singing, which he does frequently on his 2014 tape Ras Griffin III and melodious singles such as "No Love." He's even gone global, taking his act to Abidjan, Ivory Coast, where he performed this summer.
Warning: Explicit lyrics.
Nebyu has been heading in this direction since his primary-school days. The Northwest D.C. native says in fifth grade, he wrote his first song: a braggadocious track called "Can't Touch Me." Years later at Benjamin Banneker High School, Nebyu and a childhood friend started exploring music together. Now that friend, who calls himself The Arckitech, crafts many of the woozy instrumentals on Nebyu's tapes.
The collaboration between The Arckitech and Nebyu led to a bigger concept called the Washington Slizzards. That moniker — a playful take on D.C.'s NBA team name — arose out of a joke between Nebyu and his cousin in 2011. Now "Washington Slizzards" is Nebyu's hallmark and the name of his creative crew.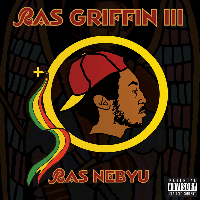 Ras flashes his tattoo, a word in black ink on his hand: "slizzatrism." The term defines the essence of the Washington Slizzards. 
"It's the art of finessing good energy to work in your favor by way of pure intent, meditation and acknowledging the ancestors," Nebyu says. He uses "slizzatrism" everywhere — on his Twitter page, his Instagram account and the title of his next release, expected next year.
Nebyu's most recent song, "Naturale," emerged in October. Hypnotic and metallic, it meditates on allegiances and the importance of black women's roles in the world and his life. The song's producer, Ibrahim Keita, opened the door to Nebyu's trip to Ivory Coast, where he shared a stage with popular Nigerian artist Wizkid, worked with Keita's band on a live EP and shot a music video. (The EP and music video are forthcoming.)
Nebyu says he hopes his trip to Africa will be the first of many. Someday, he says, he will make it to Ethiopia, where his family has roots. In the meantime, he's working on spreading slizzatrism across D.C., where he recently opened for critically acclaimed rapper Vince Staples. Next up: the rest of the U.S.
"We got a story as deep as New Orleans, Oakland, New York, L.A.," Nebyu says, referring to D.C. artists' inroads into cities across the country. "It just hasn't gotten that deep yet as far as telling that story on a national level."
Ras Nebyu performs at U Street Music Hall Dec. 27. Top photo: Ras Nebyu and the Washington Slizzards in the video "Half Man, Half Slizzard."