The members of Jack on Fire may be D.C.'s most overt provocateurs. Locally infamous thanks to "Burn Down the Brixton" — a 2014 track that called for the arson of a U Street bar — Jack on Fire shows it hasn't run out of ammunition on We Sass You Shake Your Ass, the electropunk group's new album, out today.
Who is Jack On Fire obliterating this time? Trendy D.C. bar Eat the Rich, a martini that costs $125, the CEO and executive vice president of the National Rifle Association — and that's just for starters.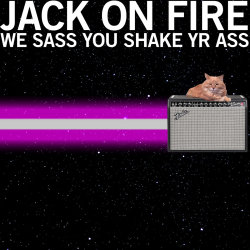 The mouthy punk trio started out covering songs by Bikini Kill's Kathleen Hanna. Then came "Burn Down the Brixton," which member Jason Mogavero describes as a "micro-viral local hit" that "would make sense to zero people outside of D.C." It earned them modest media coverage and a spin on WAMU's Kojo Nnamdi Show.
With later projects, Jack On Fire found bigger targets, taking on the March For Life on "Abortion Hooray!" and anti-marijuana congressman Andy Harris on "Andy Harris Needs To Smoke Some Weed."
On We Sass You Shake Your Ass, Jack On Fire ramps things up even more. While fun, the songs have sharp edges.
"The overall theme is that America is a hateful violent garbage fire and that we should all flee to outer space to hang out with Sun Ra and Parliament," writes Mogavero in an email. "Whether it's classism, misogyny, murderous police, racism, gun violence or gentrification, we're going to make fun of it and make you laugh and dance (hopefully)."
Mogavero — who calls himself Jack On Fire's "token white guy" — says he doesn't mind the controversy his band occasionally stokes. "We're confrontational because that's what punk should be," he writes. "When we get a negative reaction out of, say, the Westboro Baptist Church (true story), then we've done our job well."
But We Sass You Shake Your Ass arrives at a strange time. Jack On Fire is about to go on hiatus (or, as they say on the album's last two tracks, they're "blasting out into outer space to hang out for a little while"). Chrissy Ziccarelli, who shares vocals with Mogavero and Heather Rudow, recently decamped to New York City. This doesn't mark the end of Jack On Fire, however.
"We might be in outer space, but we've got our eye on things," Mogavero writes. He says there's another album, War for the Matriarchy, on the horizon.
Whatever may come, though, Mogavero predicts Jack On Fire's lyrics will retain their shelf life — albeit not for the best reasons.
"I hope that 'No One Left to Shoot' and 'Throw a Brick' lose their meaning, but I doubt they will," writes Mogavero. "Gun violence and police racism don't seem to be going anywhere."
Mogavero wrote that just hours before news broke of the mass shooting in San Bernardino, California. Later, he followed up to say that any profits from We Sass You Shake Your Ass will be donated to the Coalition to Stop Gun Violence.
Jack On Fire's We Sass You Shake Your Ass is available on Bandcamp. Warning: Explicit lyrics.