This post has been updated.
Inspired by Sylvia Plath, Big Hush is both an oxymoronic and perfect moniker for the D.C. rock band. Fans of shoegaze titans My Bloody Valentine, Big Hush combines reverb and slushy guitars with droney, manipulated vocals, bringing together the quiet and loud.
That dichotomy is still in place on the band's new EP, Who's Smoking Your Spirit? (stream the EP below), but now the group is broadening its range.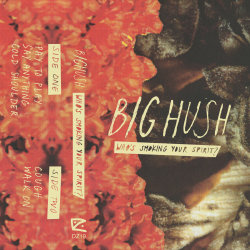 "Who's Smoking Your Spirit? is darker than our earlier stuff. Also a lot faster," writes guitarist Owen Wuerker in an email. "Our songs have almost always had some melancholy in them, but these new ones are meaner, more anxious."
The EP's five tracks, which merge together like ingredients in a murky stew, sound like an updated version of the Dublin band that pioneered the dreamy rock sound of the '90s.
"In general we're into combining nuanced vocal harmonies with big, messy guitars," Wuerker writes. "I love My Bloody Valentine, especially the stuff they did before [1991 album] Loveless. I like to think we sound like that sometimes."
But despite its European influences, Big Hush has put down roots in D.C.: Seventy-five percent of the group works on the same stretch of Connecticut Avenue NW. Wuerker works at Comet Ping Pong; guitarist Gen Ludwig and drummer Emma Baker work at Buck's Fishing & Camping next door.
Big Hush began to form when Ludwig and Wuerker, acquaintances from high school, began writing songs together in 2013. When Ludwig began dating Chris Taylor, she played him some of the songs she'd written with Wuerker, and Taylor quickly volunteered to join on bass. After a couple of personnel changes, Baker eventually took over drums.
The group shares songwriting like they share vocals. No individual wrote more than two songs on the new EP, Wuerker writes. "Sometimes one of us has a clear idea of exactly how a song should sound and that's that. Sometimes we have no clue. Usually we all get together and work through it."
The band recorded everything on reel-to-reel with local musician Andy Aylward. "After that I transferred the tracks to my computer and spent months mixing them — at home, in cafés and bars, in the parking lot outside work, while driving sometimes," writes Wuerker. "The longer I spent on them the more excited I got about using weirder production tricks and pushing the songs outside realm of capturing the way we sound live."
That's why the songs will sound different in performance, and that's OK with Wuerker. Some of the EP's songs "got so deconstructed that there's no way we could reproduce the recordings at a show, unless we decided to use laptops on stage or something," he writes.
Big Hush fêtes Who's Smoking Your Spirit? tonight at Black Cat — and while the band's live show won't reproduce the EP, the audience should expect a performance with its own experimental flair.
"I'm gonna play guitar through two amps," Wuerker writes. "On a good night, I hear things in our songs that no one is actually playing."
Big Hush plays an EP release show tonight at Black Cat. Who's Smoking Your Spirit? is out Dec. 1 on DZ Tapes.