Wale is not the only famous rapper out of Maryland: Next to him is Logic, the 25-year-old Gaithersburg native who inked a deal with Def Jam in 2013.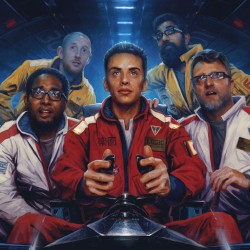 Today Logic dropped The Incredible True Story, the followup to his 2014 debut Under Pressure. Marketed as a "sci-fi epic," the album is set 100 years in the future, at a point when Earth has become unlivable and surviving humans set out to look for a new planet. (In a recent interview with NPR's Microphone Check, the MC says he wrote the whole tale in one sitting.)
Accordingly, the new record feels less autobiographical than Under Pressure, which mostly found the MC retelling his tough life story.
Logic's new album is available now on Spotify (stream it below) and iTunes.
Warning: Explicit lyrics.