D.C.'s newest cookbook has one seemingly high-maintenance rock star to thank for its conception: Jack White.
When White's tour rider leaked in February, the music blogosphere erupted over its extremely specific guacamole guidelines. Not only did the document include a guacamole recipe, it provided instructions for how to slice the avocados to achieve perfect chunkiness. (White has said he had nothing to do with the guac recipe, calling it an "inside joke" with show promoters.)
D.C.'s Jason Mogavero, who's in the band Jack on Fire, got to mocking the tour rider's specifications with pal Sam Sherwood at local watering hole Showtime.
"It was sort of like the obnoxious 2015 version of 'remove the red M&Ms,'" says Mogavero, 30.
That conversation led Sherwood and Mogavero down a culinary rabbit hole: They started comparing their own takes on guacamole, then moved on to their chili recipes. Mogavero realized he had a lot of friends who both play in D.C. bands and possess "serious cooking chops," he says. Then it hit him: D.C.'s music scene needs a chili cookbook.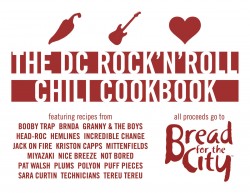 D.C.'s most famous chili is the stuff ladled out at Ben's Chili Bowl. But after Mogavero began reaching out to friends and folks in the music scene — soliciting both recipes and songs for a paired music compilation — he found a surprising variety of concoctions.
"At first I worried, 'There's probably going to be a bit of repetition…  it's chili, how many different variations could you get?" Mogavero says. "[But] we just naturally got this wide breadth of chili recipes."
Called the DC Rock'n'Roll Chili Cookbook, the collection includes both meaty and vegan chilis, chilis centered around beans and some that don't touch the legume. There are also sides and soups — i.e. cheesy biscuits and butternut squash cornbread — that would make excellent foils to the hearty main attraction. Recipe styles also run the gamut, from straightforward to silly, like the footnoted, joke-heavy one submitted by the people behind parody Twitter account Fort Reno Rumors.
Together, the recipes compose a 40-page physical cookbook. The book comes with a 15-song compilation of songs by D.C. artists, including two previously unreleased tunes from indie rockers BRNDA and Mogavero's Jack On Fire.  (Stream the entire compilation below.)
"Beat the Rich," which formally arrives on Jack On Fire's new album out Dec. 4, is a sardonic take on pricey craft cocktails and other trappings of gentrification. Thematically, it piggybacks on the band's fiery 2014 cut "Burn Down the Brixton."
Proceeds from the cookbook and compilation benefit nonprofit Bread for the City, which just made sense for a food-themed benefit, Mogavero says. He also points out that the release's timing — shortly before Thanksgiving — was intentional.
"I deliberately said, 'Let's get this out in the first two weeks of November so that the money can help [Bread for the City] with the push for Thanksgiving meals.'"
Mogavero plans to host a release party for the DC Rock'n'Roll Chili Cookbook Nov. 8 at Showtime, the bar where the chili cookbook was born. The musician says he'll have 50 copies of the compilation for sale — in cassette form, for $5 — along with 100 copies of the cookbook.
If the cookbook proves to be a hit, Mogavero says, he's happy to satisfy people's appetites for more.
The DC Rock'n'Roll Chili Cookbook is available for preorder on Bandcamp and will be for sale, along with cassette copies of the compilation, Nov. 8 at Showtime. Top photo by Flickr user jeffreyww used under a Creative Commons license.