No bottle service. No dress code. No high door fee. Could it be the future of nightlife in D.C.?
Ask the people behind promotions group WERC, and they might say it's the present. That's because the Atlanta event planners are bringing their alternative party, VIBES, to D.C. for the first time tonight.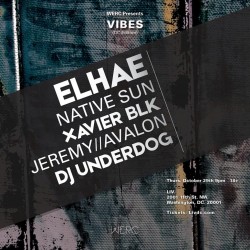 "It's all about the energy," says WERC co-founder Will Edmond. "If you come to our party, whether you're 18 or 40, you can still have fun. When people actually experience a whole different side of the clubgoing scene — we're not about bottle service or 'Come in and spend $100 to sit in this section' — it's really about having a good time."
Tonight marks WERC's first event outside of Atlanta, but VIBES has always had a link to the DMV region — particularly its more bracing, contemporary hip-hop scene.
Founded in April 2014, WERC looked to a DMV artist to set the tone for its first party. Producer Lakim, known for his work with ascendant Virginia rapper GoldLink and tastemaker collective Soulection, filled what was then a void in Atlanta's hip-hop scene.
"[Lakim] kind of spearheaded what we wanted to represent," says Xavier BLK, one of WERC's resident DJs. "We realized a lot of Atlanta was listening to more of a futuristic, progressive fusion of Atlanta-based music with the 808s and the Southern bounce… but no one was bringing [those artists] out here."
The group — which Atlanta's Creative Loafing recently named the city's "best creative event planners" — wanted to present an alternative to the pricey and predictable nightclub scene, a culture that's been declining in popularity. WERC co-founder Will Edmond says VIBES focuses on music, particularly the stuff you won't catch on the radio. (He cites Canadian producer Kaytranada and Seattle's Sango — both of whom have worked with GoldLink — as examples.) That approach meshes well with D.C.'s existing alt-club scene, which draws a young-adult crowd to midcity venues including U Street Music Hall and Velvet Lounge.
Two selectors on VIBE's bill tonight at Liv Nightclub are U Street regulars: DJs Native Sun (who's already played the party in Atlanta) and Underdog. Headliner Elhae isn't local — he's an Atlantan, too — but he is a triple threat: a producer, singer and rapper.
For a group based in Atlanta, WERC has built surprisingly strong connections here.
"I went to Trillectro [in Maryland] this year, and hanging out with all the DMV people was great," Edmond says. "I met a lot of people up there who are doing the same things we're doing… and I feel like there's a scene in D.C. that's building."
Xavier agrees. In a way, the VIBES party is practicing a form of diplomacy.
"It wouldn't be right to just pop into another city that we respect without showing love," the DJ says. "We want to represent what it feels like there, too."