Teen Mom doesn't have much time to overthink its final days as a band. Guitarist and vocalist Chris Kelly is getting ready to move to Colorado, and there are cassettes to make and one last show to promote.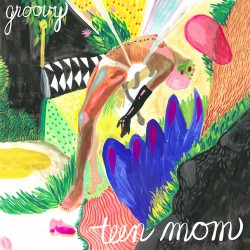 The band is filling up its calendar before Kelly splits town. The trio played its penultimate gig on Oct. 23 in College Park, and Oct. 29 marks its goodbye show, at Songbyrd Record Cafe in Adams Morgan. Oh, and there's the album Teen Mom just released — its first, and most likely its last.
"It was a long time comin'," Kelly says of the record, a 10-song collection called Groovy (stream it below).
Groovy, written between 2013 and 2014 and recorded at Persona Non Grata in Arlington, Virginia, is an independent release. The band considered working with a label, then opted against it in the interest of time. Yet time is the key ingredient on Groovy: It's what makes Teen Mom sound recognizably like itself — fuzzy, jangly, heartbroken — but a touch more experienced.
"[The album is] more rockin' in many ways," says drummer Sean Dalby. "I think it's a little more polished — and a little more versatile [than our first two EPs], too."
While the band has sharpened, though, one thing that's remained constant is the slight controversy over its name.
"We've received some criticism [for the moniker], and I respect people with that opinion," Dalby says. He says some listeners may have misidentified the name's target. It takes aim at a popular MTV reality show, not young mothers themselves.
"We thought it was funny to name it after [MTV's Teen Mom series]," Dalby says. "We were going after MTV."
Criticism aside, the local scene has treated Teen Mom well, says bassist Tom MacWright.
"D.C.'s music scene is great. It's super, super supportive, and you hear in other cities that it's really competitive between bands and really hard to book shows, but here it's extremely easy to book shows," MacWright says. "All the bands just kind of get along. They all root for each other."
As for Kelly, his decision to move sounds personal; not necessarily to find greener pastures in another music scene. "I just want to change my life and move to a new city," he says.
So, yeah — Thursday's show may involve tears.
"I'm gonna be crying the whole time," Dalby says, jokingly. "I think it will be a little intense but I think it will mostly be fun. We hope we have a lot of friends and family and support out there."
Will this be a clean break for Teen Mom? It's uncertain.
"I don't know [if it's the end]. I always think that who knows where we'll all end up at some point?" says Kelly. "I'd like to play with these guys again, and hopefully our paths will cross at some point."
MacWright says no matter what, none of them is dropping music for good. "I think all of us will continue to do music in one way or another."
Plus, there's a fringe benefit to Kelly moving westward, the bassist says. "Everyone's very much looking forward to Chris' mountain home recording."
Teen Mom plays a farewell show Oct. 29 at Songbyrd Record Cafe.