"If Jill Scott and Pharrell had a baby and Chuck Brown was the godfather," says vocalist Reesa Renee, she would be the progeny.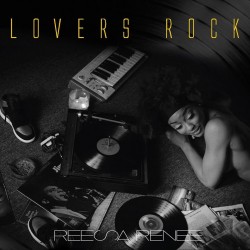 That would explain the eclecticism on the Maryland artist's recent EP, Lovers Rock.
"I was challenged [by my team] to look at love from different angles," Renee says. Instead of relying on traditional love tropes — i.e. "Oh baby, I love you" songs — she channels anger, sensuality, contemplativeness and straight-up funk on the release, seeking to make an atypical record about love.
She borrows ideas from Pharrell, Scott and Brown, but that's not it: Sade plays a lead role. Lovers Rock cribs its title from the English R&B artist's fifth album.
"Sade was a huge influence for me on this album. She's so at peace, laid back… and relaxed," Renee says.
The performer also took cues from Sade's penchant for playing with genre. Take the song "Guess Again," which Renee says was originally intended for a "Blink-182-like rock band." She took it and made it her own. Elsewhere, intro track "Reminder" finds the vocalist floating over an atmospheric production one minute, and spitting rapid-fire lines the next.
In the wind-down stage of her "Lovers Rock" tour, Renee is playing the homecoming festivities at Morgan State University in Baltimore, North Carolina A&T State University and Winston-Salem State University. After that, she plans to step off the road for a bit and use her extensive musical vocabulary to begin work on a followup to Lovers Rock.
This time, though, Renee is setting her eye on another one of her spirit guides.
"I'm coming after Pharrell," she says.
Warning: Explicit lyrics.