The thick new single from D.C. indie-rock group Soccer Team is called "Friends Who Know" — and bandleaders Ryan Nelson and Melissa Quinley are friends who know how to make a killer record.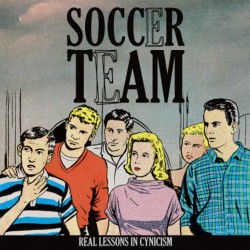 The two captains of Soccer Team have been making music together for more than a decade, and their forthcoming album, Real Lessons in Cynicism, is a testament to the value of working as, well, a team.
Nelson and Quinley finish each other's sentences, both in conversation and music. Nelson — who handles vocals, guitar and drums — brings an analog grit to Soccer Team's sound. Quinley's airy vocals lighten things up, while her bass keeps the band on strong rhythmic footing.
Nelson and Quinley met in the '90s, when they were both working at famed D.C. punk label Dischord Records.
"Melissa and I were sort of joined at the hip almost right away," Nelson says.
Quinley, who moved to D.C. in '95 to work at the label, found a musical peer in Nelson.
"I very quickly realized that I trusted his recommendations," Quinley says. "He was one of the few people I was comfortable around. I remember singing the first time and I was mortified — and he left the room and just let me do my thing."
So Quinley kept exploring music with him. The duo took a break while Nelson attended school in Michigan for five years, but when he returned, they found their creative chemistry still intact.
"Right when Ryan came back, we put our 7-inch out, applied to South by Southwest, and started playing again," Quinley says.
After Soccer Team released its debut, the 2006 LP "Volunteered" Civility and Professionalism, they had a few songs left over, Nelson says. They began recording Real Lessons in Cynicism in 2013. It's expected out Oct. 27 on — what else? — Dischord Records.
For this album, Quinley and Nelson are joined by longtime collaborator and friend Jason Hutto (of The Aquarium) and Quinley's husband, drummer Dennis Kane.
Nelson says he's proud that on this album, "you can really hear a lot of each individual person's contribution." That's especially true of "Friends Who Know." Its lyrics are difficult to parse — Nelson calls it "one of the weirder songs on the record" — but the musical mojo is unmistakeable.
"So much of the stuff that Ryan writes, I immediately hear melodies," Quinley says. "That doesn't happen a lot."
For years, "Friends Who Know" existed as fragments in Nelson's mind, without lyrics.
"I feel awful but I'm just going to say it. If you ask me about any song on the record, I could tell you volumes about what the lyrics are about — with the exception of 'Friends Who Know,'" Nelson says. "It's crazy, but this song, it was pieces and fragments of other melodies that I had started and didn't finish. Pieces just kept falling into place."
Quinley agrees. The song sounds disjointed, but it possesses a strange magic.
"Everything to me aligns and works perfectly like it should," the bassist says. "It is really beautiful… and the bass chords at end sound so badass."
Soccer Team plays an album-release show Oct. 18 at Comet Ping Pong.
Stream "Too Many Lens Flares," another single from Soccer Team's second LP: