The origin story of D.C. punk band Hemlines is straightforward: Two musicians aspired to start a feminist band. So they did.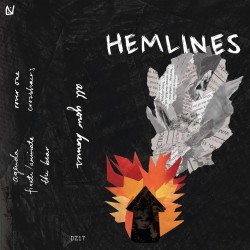 Katie Park wanted to make feminist punk rock in particular. Dana Liebelson shared the same dream. They recruited a drummer — Julie Yoder, a founder of the Girls Rock! DC camp — through Craigslist. Their pal Ian Villeda, the sole guy, joined on guitar. Hemlines came screaming into existence.
The band represented a new direction for both Park and Liebelson. Both abandoned their primary instruments: Park swapped out her usual bass for a guitar, and Liebelson traded her violin for a bass.
"I had been in a pretty laid-back indie-rock project and I really wanted to start something that was explicitly feminist, and it seemed like I needed a louder instrument in order to do that," Liebelson says, laughing.
Hemlines hit their target on All Your Homes, the band's searing debut EP, released last week on DZ Tapes. The cassette opens with "Agenda," a track that confronts the negative connotation that word has picked up over the years.
"Agenda" was inspired by a frustrating and all-too-common situation Liebelson came across, in which a college administrator told a sexual-assault victim that she was supporting a type of "rape culture agenda."
"The phrase 'rape culture agenda' got in my head," Liebelson says. She bristled at the idea that a sexual-assault victim's pain and outrage could be dismissed as an agenda. "I was thinking, 'OK, in that case, yeah, I want to reclaim this and say, 'I do have an agenda. This is an excellent agenda that I want to be behind.'"
Writing a song on the subject proved cathartic.
"I remember hearing about the scenario and being upset about it and not quite sure what to do about it," says Liebelson. "I channeled that straight into writing. Now I feel better every single time we perform it."
Also cathartic for Hemlines are songs that deal with more personal matters, like mental health. Women's mental health in particular, Park says, has historically been given short shrift, chalked up to hysteria rather than legitimate health issues.
"It makes a huge difference to put that into words and then be very loud about it," says Park. Listeners can find something relatable in the subject matter, too.
The band recorded the EP this summer at Columbia Heights studio Swim-Two-Birds, tracking live and finding synergy with engineers Ryan Little (an occasional Bandwidth contributor) and Brendan Polmer.
"The [D.C.] community is very supportive. I don't think any of us have ever felt like we're imposters or we don't deserve to be up on stage playing an instrument that's new to us." — Julie Yoder of Hemlines
"It was a seamless experience compared to other recording sessions I've been involved in," says Yoder. "I felt like the engineers were really intuitive with when to suggest and when to back away. I had a really good time. It didn't feel like work at all."
The band always wanted to play punk, but it's also worked out to be the ideal genre for other reasons, Yoder says.
"I just feel like punk is one of the most accessible genres, especially when you are starting out on a new instrument," the drummer says. "The community is very supportive. I don't think any of us have ever felt like we're imposters or we don't deserve to be up on stage playing an instrument that's new to us."
Yet while D.C.'s punk scene has lain out a welcome mat, the music industry overall can still be a challenging environment for female-identified musicians. Thus the importance of labeling Hemlines a feminist band.
"I would say we're still at the point where when you get on a stage, that's a feminist act alone," Liebelson says, "but I just want to remind people of it. I don't want to be like, 'This is kind of feminist,' I want to be reminding people that it's feminist."
Eventually, the band hopes, there will be nothing remarkable about women playing music.
"The act of women getting up on stage and performing should be normal," says Park. "Yeah, it should be," Liebelson agrees, "but it's not yet."
Hemlines plays an EP release show Wednesday, Sept. 30 at Black Cat.