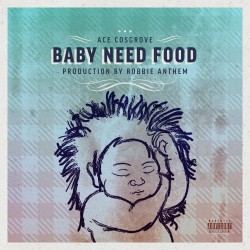 "You have to hustle harder than the next person to put bread on the table." That's the inspiration behind Baby Need Food, the latest project from Maryland hip-hop artist Ace Cosgrove.
It's a sentiment echoed throughout the album's nine tracks as Cosgrove interrogates both himself and his environment. On "Freddies Dead," he refers to the death of Baltimore resident Freddie Gray and the protests that followed; on final track "Need Somebody," he's talking about the death of his love life.
Baby Need Food is produced by Robbie Anthem, who is based in upstate New York; the two never met face-to-face as they worked on the album. While working with a single producer can add up to a more cohesive sound, on this project it saps some of the range and intangible extra magic Cosgrove achieved on 2014's UsVsRobots, which was produced, in part, by fellow DMVers Black Diamond, Royal and i.V.
Warning: Explicit lyrics.
Still, Anthem's classic style meshes well with Cosgrove and lends a space to new sounds: Drums and basslines are right up front and, on "Black/Flawless," a saxophone stands out. That richer sound bodes well for Cosgrove's performance Sunday at the Landmark Music Festival — where the emcee plans to perform with a live band.
Ace Cosgrove performs Sept. 27 at the Landmark Music Festival in D.C.