Atmospheric R&B duo Abhi//Dijon still has a low profile locally — the pair from Ellicott City, Maryland, hasn't played many live shows in the D.C. area — but online, members Abhi Raju and Dijon Duenas are blowing up.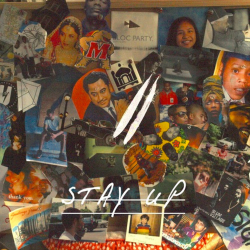 Today, the two 20-somethings took another step toward expanding their online fanbase, releasing Stay Up, their anticipated sophomore EP, via Fader.
The EP builds on Raju and Duenas' subtle strengths, murmuring more than it exclaims. On love songs (i.e. most of their tunes), vocalist Duenas is prone to sweet propositioning — never ungentlemanly come-ons — and co-producer Raju keeps the lights low.
But there's some experimentation here, too: Abhi//Dijon has always been steeped in hip-hop, but Duenas goes all the way when he raps on "Werk." At the EP's end, closer "Apple Pie" sounds like it could have come from a D'Angelo outtake.
Below, stream Stay Up — and light some candles while you're at it.