On a Saturday night, multicolored balloons bearing the image of cartoon character Tintin sail down from the balconies of D.C.'s 9:30 Club. Hours later, the balloons are still there, dancing among the crowd as five bands take turns onstage.
The party decor doesn't feel out of place. This is a celebration. It's the first anniversary of Babe City Records, a D.C.-based record and cassette label that captures the new sound of the city's indie-rock scene — and the show is nearly sold out.
Formerly associated with Chimes Records, Babe City was spearheaded by musicians and fans who wanted to carve out a place for themselves in independent music. Now the label is on a mission to help other local bands do the same.
The label's Jon Weiss, 24, and Peter Lillis, 28, are also musicians: They both appeared onstage during the anniversary show, handling guitar in Jules Hale's band Den-Mate. (Weiss also sings in Babe City group The Sea Life.) Weiss and Lillis play major roles behind the scenes, too: They quite literally live Babe City, which shares its name with their group house and DIY venue in D.C.'s Dupont Circle neighborhood. The guys moved into the house in August 2014 and started hosting shows the following month.
Co-founded by Erik Cativo (aka Erik Strander) and Weiss, Babe City is now operated by a small group of friends. Cativo and Weiss handle key roles behind the scenes, including production and booking, respectively. Lillis serves as the label's publicity guru. More help comes from Kevin Sottek, a member of Babe City signees Witch Coast, who's the label's art director; Jen Pape, who recently joined as a project manager; and Michael Andrade — an occasional Bandwidth contributor — who's Babe City's official photographer.
"We're all nerds about something," Lillis says. "Everyone comes into it with their own background and passion and it fills out all the space in between."
Babe City likes to be inclusive. For the 9:30 Club gig, the label roped in D.C. bands The Max Levine Ensemble and The El Mansouris, poppy rock ensembles with no official tie to the label. With the slogan "everyone's a babe at Babe City," the imprint doesn't want to be thought of as male-oriented or sexist (though the anniversary gig's lineup was heavily male).
Weiss says David Combs, the longtime leader of The Max Levine Ensemble (and also a Bandwidth contributor), was his first musical role model when he first started to probe the D.C. music scene at age 16. "Having him on this show was awesome," says Weiss, a Rockville native who's only eight years younger than Combs.
In an indie-rock scene as transient as D.C.'s, it doesn't take long for scenesters to become elder statesmen. Weiss has been involved with The Sea Life for eight years, and he thought his experience could be helpful to rising bands like Young Rapids. The musician says his desire to support other local groups was a major impetus behind Babe City's creation.
"When you have this album that you're proud of and you can't put it out, or you don't know how to put it out, or you don't have direction for it," Weiss says, "it's very defeating."
Lillis agrees. He says Babe City is here to help.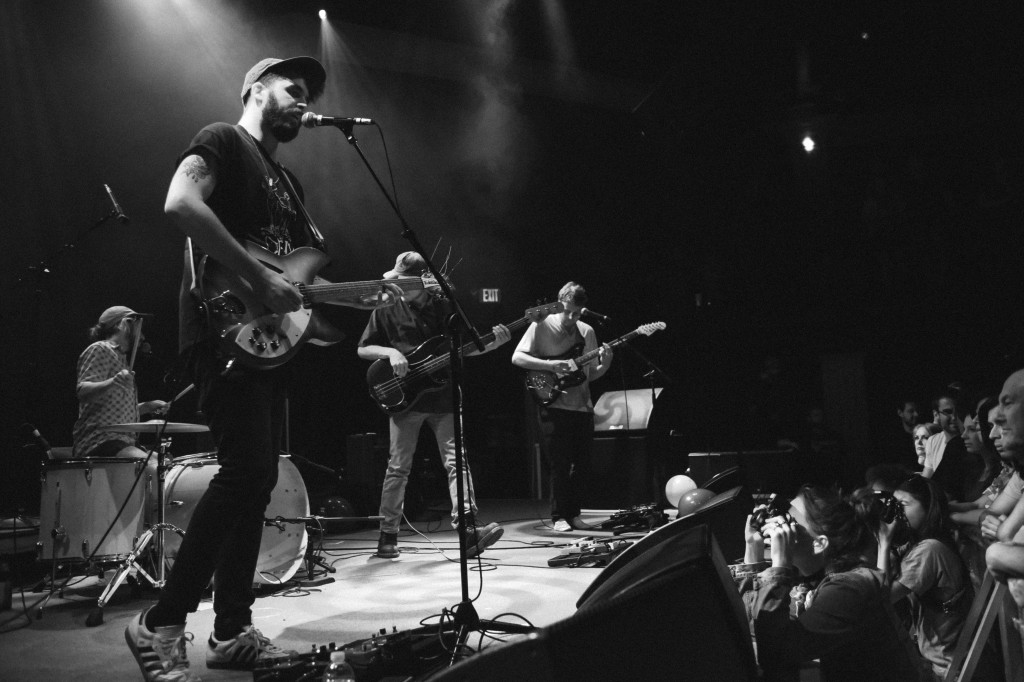 "Bands can get bogged down in the non-music stuff from recording, to booking shows, even finding a place to practice," Lillis says. "There are so many logistics that can be a detriment to bands. We want to let them be the musicians, and we'll get the rest of it done for them."
Now Babe City wants to take its mission a step further. They want to work on getting their music licensed for media, sign more out-of-state bands and grow into a national — as well as local — label. And they'd like to expand into vinyl.
"[Vinyl] is our favorite format," Weiss says. "We don't want to be just a cassette label. Most of the labels we look up to are primarily vinyl. To be viewed by them as peers would be an awesome goal for us."
But while the 9:30 Club gig felt like a party, both Weiss and Lillis say the work has just begun.
"We're happy and excited, but we're not patting ourselves on the back," Weiss says. "We're not ready to do that yet. We want to just use it as motivation and validation to work harder."
Second photo: The Sea Life at 9:30 Club, by Michael Andrade
The original version of this post contained errors and imprecise language. Due to a reporting error, it incorrectly identified Peter Lillis, who works on the label, as a co-founder. (Jon Weiss and Erik Cativo are co-founders.) Second, due to an editing error, we described Babe City as a cassette label, but that's not entirely accurate: It has released music both on vinyl and cassette. Third, Babe City is better described as an affiliate — not a direct descendant — of Chimes Records. Finally, we first referred to Young Rapids as "younger" than The Sea Life, but that wasn't the best word choice. We meant the band has existed for less time. The language has been corrected.