Self-proclaimed "trap hipster" Layla Khepri does it big — dinosaur big, as seen in the rapper's new music video for "Jurassic."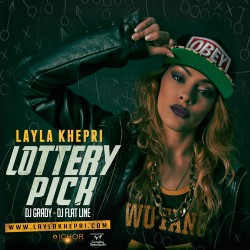 A highlight from Khepri's recent Lottery Pick mixtape, "Jurassic" finds the MC taking cues from Eminem, Lil Wayne and Big Sean as she playfully — but ferociously — boasts about her growing claims to fame. That same boastfulness earned the native of Fort Washington, Maryland, a certain reputation during high school.
"I thought freestyling was [just] battle rap," Khepri, 22, says in a phone call. "So it always sounded like I was coming for somebody. I [once] snatched someone's bandana off in the middle of one of my lines."
Eventually, Khepri learned freestyling wasn't just battling. From there, she began to make songs "more about everything," catching the eye of manager Lady Redz.
But Lottery Pick, released in July, isn't Khepri's only dinosaur-sized enterprise. Now a resident of Atlanta, she's also venturing into acting, appearing in a suggestive Mountain Dew commercial that a Georgia-based director submitted to the brand's creative director.
You'd think that between Lottery Pick, modeling and acting, Khepri would have her hands full. But the rapper/actor already has more projects in the works: an upcoming tour, plus her own racing-game app — which she hopes to eventually push to all mobile platforms.