Color Palette mastered an '80s jangle sound on earlier single "Heartless." On its newest song, the D.C. band sounds tuned into another style from that era — synth-pop — but it adds some key updates.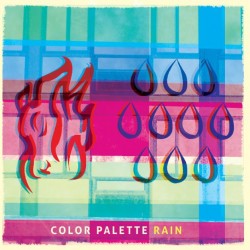 On the third single from the band's forthcoming EP, songwriter Jay Nemeyer nods to bands like Phantogram and Sohn, who texturize their electronic music with organic sounds.
Thematically, "Rain" (listen below) flows with the rest of the EP, depicting a last-ditch attempt to save a drowning relationship. At the heart of the track is a relentless, alarmlike vocal drone that triggers a wave of intensity, like the downpour in which the narrator seems caught — and Nemeyer throws in a few layers of sound to build a foggy atmosphere.
Combined, those elements add up to the band's heaviest single to date, which seems to be the point.
"It's about the compounding effect loss in one area of your life can have on the rest," Nemeyer says.
Color Palette plays Aug. 15 at Ghost Office in College Park, Maryland.